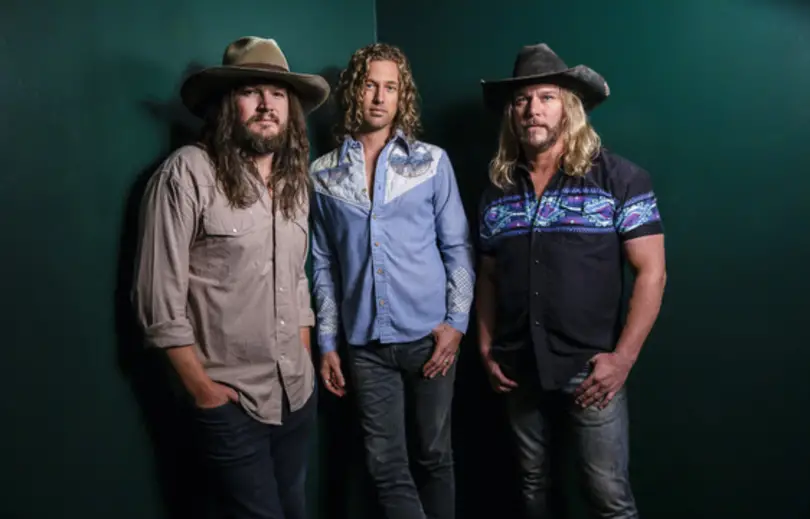 Regardless of what kind of country music you like, the answer is likely found in Texas Hill's new album, Heaven Down Here. The record is the first full-length project from the supergroup, made up of The Voice contestants Adam Wakefield and Craig Wayne Boyd, and American Idol finalist, Casey James, Although Texas Hill previously released their self-titled debut EP, it's Heaven Down Here that showcases what the trio is capable of, both in terms of talent and diversity.
From the energetic title track to the bluesy "Up One Side" and "Easy On the Eyes," or the pure country "Four Roses," Heaven Down Here illustrates the powerful music that can happen when three talented singers join forces.
"Part of being a band means that the sum is greater than its parts," James says of the record. "I'm proud to say that I can hear each of our distinct musical voices in the music. I hope that the audience can do the same. As long as people enjoy it, that's what it boils down to."
Even with a bit out-of-the-box tracks, like the Spanish-tinged "Where the Lonely Go," Texas Hill stays true to their core, with all three men rotating turns on who takes lead and who provides the harmonies throughout the record.
Their vocals shine on songs like "Love Me When I'm Leaving," and the rock-infused "Sugar Cane," but especially on the hopeful "Darkest Sky." The group, which just made their Grand Ole Opry debut together, might not have even happened if Boyd, who won Season 7 of The Voice, hadn't reached a personal and professional crossroads.
"I was sitting in my garage thinking about what I wanted to do in my own personal career," Boyd tells Everything Nash. "I felt beat up a little bit, and I just wanted to get back to the love of music. And one of those things for me was singing harmonies and singing in a group. In talking with my wife, who is the brilliant one, she asked who I would want to sing with. And both of these guys are my first choices. This is who I would see if I had my dream vocal group. I like their voices. I'm a fan of both of them, so I called them up."
At least one of the Texas Hill members wrote all but two of the tracks on Heaven Down Here, which includes two songs, both "Love Me When I'm Leaving" and "Love Is a River" written just by Wakefield. Heaven Down Here might be a freshman project, but the talented co-writers on the record, including Keith Stegall, James LeBlanc and more, adds to the project's rich, and slightly eclectic, sounds.
While Wakefield, Boyd and James each have their own solo careers, for now they are content to pour much of their time and resources into taking the country music world by storm with their combined talents. After releasing Heaven Down Here, the possibilities seem endless.
Heaven Down Here is available for purchase here.
Photo Credit: Courtesy of Elicity PR / Jeff Fasano