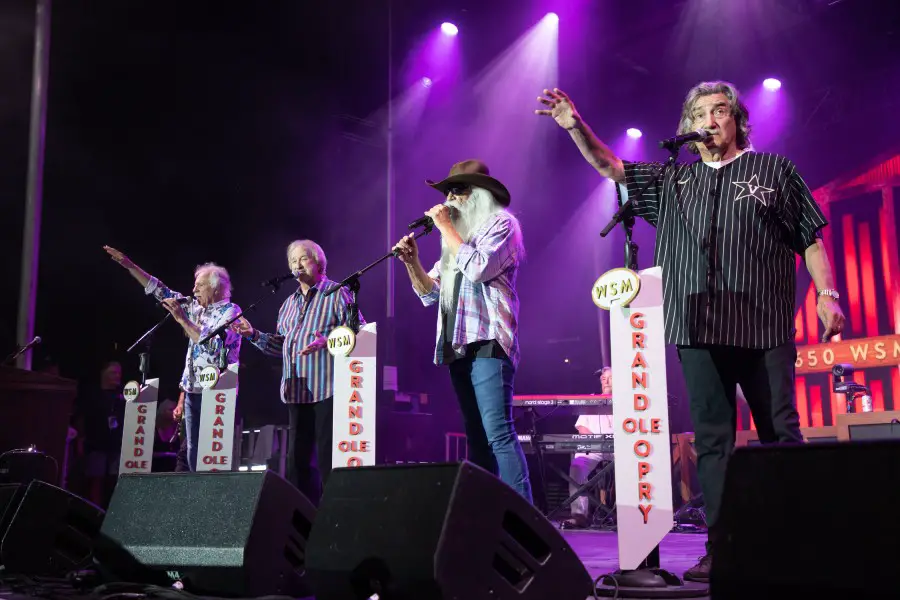 The Oak Ridge Boys returned to the Grand Ole Opry on Saturday, August 7, where they did a lot more than just perform. The famous quartet also celebrated ten years as Opry members, one of the biggest highlights of the group's lengthy career.
"We've been members for ten years. I gotta say, the Oak Ridge Boys have played the Opry many, many times over all these decades," Joe Bonsall said from stage. "In fact, back in our early history, before we were even in the group, the Oak Ridge Quartet out of Oak Ridge, Tennessee, moved to Nashville in 1946 and began to play on the Grand Ole Opry at the Ryman, way, way back then. And through the '60s and '70s, when they changed their name to the Oak Ridge Boys, and all these guys got together, we've come here many, many times. But ten years ago, coming here to play the Opry was one thing. It's like somebody inviting you over for dinner time after time. But then one night they say, 'Hey, just stay.'"
The Oak Ridge Boys are among the longest-running groups in country music history, but all four members say it's a gift they will not take for granted.
"The Oak Ridge Boys still sing big. All four of them," Bonsall tells Everything Nash. "That's been an incredible blessing because to me, if you're going to go out there on stage and you're going to still carry all that history that we bring to the States, more than anybody else …  to still be performing at that level with our kick band behind us out there singing big four-part harmony on hit after hit after hit, throwing in some gospel, wave the flag a little, here's a couple of new songs from the new album, and do it all at that level, and then celebrate 40 years of 'Elvira' for crying out loud, it's just an amazing blessing to still be able to do that."
The temperatures might be sweltering, but the Oak Ridge Boys are already thinking about Christmas. The Country Music Hall of Fame members just announced that they will return once again to Gaylord  Opryland Resort for their Christmas In Tennessee show, which will run from November 24 to December 25. Bonsall shared the good news during their Grand Ole Opry performance.
"We are excited to be home in Nashville again for our 2021 Christmas shows," Bonsall said. "This opportunity to return to the remarkable Gaylord Opryland Resort is a blessing. We had a great time last year, and we look forward to 31 more shows this year! We hope you will join us there to celebrate the joys of Christmas at the Gaylord Opryland Resort!!"
The Oak Ridge Boys also headlined the Grand Ole Prix concert on Sunday, August 8, in downtown Nashville, part of the inaugural three-day Big Machine Music City Grand Prix, held in downtown Nashville. Keep track of tour dates at OakRidgeBoys.com.
Want the first look at all of our exclusive artist interviews? Subscribe to our YouTube channel here.