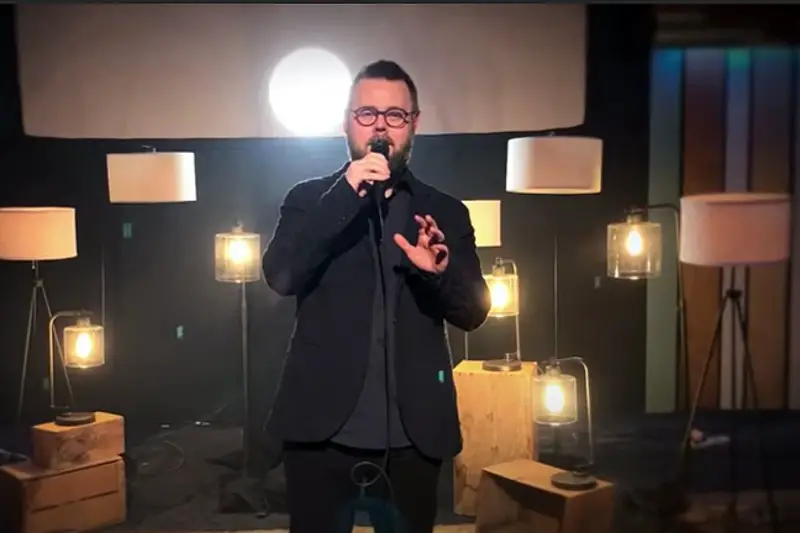 The Voice winner Todd Tilghman has released yet another new song, "Sunday Clothes." The song comes less than a week after he released the deeply personal new track, "Sandcastles," on YouTube.
Tilghman hasn't said much about "Sunday Clothes," other than that he wrote it with his good friend, Justin, sharing it on Facebook the same day they wrote it. The song, with lyrics that include, "Life's more about the people that you love / Than the people that you know / And it's more about not giving up / When your faith is running low / Baby, it's more about the golden rule than the rules that you broke / And it's more about the stains on that old cross / Than the stains on your Sunday clothes," is a reminder of Tilghman's former role as a pastor in Mississippi.
 

Wrote this one today with my friend, Justin. It's called Sunday Clothes. Let me know what you think.

Posted by Todd Tilghman on Tuesday, July 20, 2021
Tilghman's "Sandcastles" is one of the most personal songs he ever wrote, recalling when he and his wife, Brooke, almost split up nearly 20 years ago.
"Really, it's my own story," Tilghman said in a  video he posted on Facebook. "It's a literal, true account of my life. The first verse is a literal true account of a Tuesday morning in my own life. It's not a whole bunch of creativity put into it. It's really what happened to me one Tuesday morning. The second verse, there's a little more creativity; I used a little more liberty. I changed the setting, I reversed the roles."
The father of eight has yet to reveal when a new project will be released, but he does say a lot more new music is on the way.
"I've been in a hundred marketing meetings, and I'm still not 100 percent certain how all of this is gonna roll out," Tilghman told Everything Nash earlier this year. "But it's looking like I will at least through this year, or maybe the summer, and maybe forever, 'cause I'm entering into the music industry in my early '40s, which is not typical. But as long as I stay independent … I'm listening back to some of the things I'm working on with Gordon [Mote], my producer, and I'm feeling like we may actually have a full album this summer and not just an EP. There's lots of stuff. But I don't know how this is going to work out."
Tilghman and Brooke just released their autobiography, Every Little Win: How Celebrating Small Victories Can Lead to Big Joy. The book is available for purchase here.*
*Everything Nash has an affiliate relationship with Amazon, which means we may receive a small commission from purchases made through links on this page, at no additional cost to the authors or consumers.
Want more exclusive artist interviews? Subscribe to our YouTube channel here.