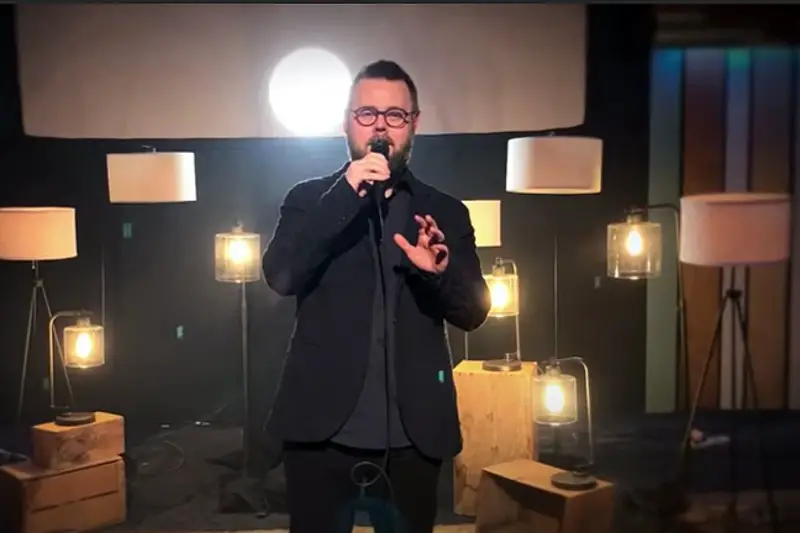 New music is here from The Voice winner Todd Tilghman! The father of eight just dropped "Sandcastles," a telling song that he wrote, which he says is very autobiographical, drawing from a challenging time in his own life.
"Sandcastles is EXTREMELY personal," Tilghman said on social media in advance of the song's release. "Some creative liberties were taken, of course, but the song is basically my actual life. Second, it's a little (lot) different from what you've heard from me…BECAUSE it's so personal."
Tilghman also shared, in a video on Facebook, that there is a reason "Sandcastles" is only available on YouTube, at least for the time being.
"I have a lot of things that I'm working on right now, and I don't fully understand this world yet," Tilghman explained. "And so what I do is, I take advice from people, like my attorney, or people who are active in the music industry and the world. So I talked to my attorney, and based on some of the things that I'm dealing with personally, in my career trajectory right now, based on that, he said it would probably be not the best idea to release this music fully, to release this song fully to the streaming platforms."
Tilghman also explained the story behind "Sandcastles," sharing why the song is so deeply personal to him. The first verse, which begins with, "He woke up on a Tuesday / Morning routine went about the same way / It always had days and days before / Showered and a clean shave / On his way out to tackle the day / But the phone call came before he reached the door / In an instant everything can change," is a recap of something that happened in his own life.
"Really, it's my own story," Tilghman concedes. "It's a literal, true account of my life. The first verse is a literal true account of a Tuesday morning in my own life. It's not a whole bunch of creativity put into it. It's really what happened to me one Tuesday morning. The second verse, there's a little more creativity; I used a little more liberty. I changed the setting, I reversed the roles."
Although it's been almost 20 years since that fateful day, Tilghman still vividly remembers what that moment was like, when his wife, Brooke, said she no longer wanted to be married.
"Years and years ago, this verse two, I was sitting across the living room from my wife, and she told me she wanted a divorce," Tilghman recounts. "She didn't love me anymore … That did not happen. We're still together. I said all those things to say, this song is very personal, and very meaningful. but it's not all about the brokenness. The song does culminate with a gradual healing, and that's how healing very often takes place, is gradually. That's really the message of this song."
Tilghman and his wife, Brooke, recently released their new book, Every Little Win: How Celebrating Small Victories Can Lead to Big Joy., sharing both the highs and lows of their own lives, including early marital struggles, adopting two children from South Korea and more.
"When my wife Brooke tried to divorce me, a few years into our marriage, that was a huge turning point for us," Tilghman recalls to Authority Magazine. "Adopting our two daughters from South Korea is an interesting story, too, especially when we didn't have two pennies to rub together. But, I guess I can say that if our family hadn't almost fallen apart in 2002 — and come back together — then none of the other stories that we share in the book would have happened. We've seen a lot of victory in a story that started out pretty scary. Because our marriage survived, we have this beautiful story to tell."
Tilghman did previously hint that more music was coming from him, and soon. Every Little Win is available for purchase here.*
*Everything Nash has an affiliate relationship with Amazon, which means we may receive a small commission from purchases made through links on this page, at no additional cost to the authors or consumers.