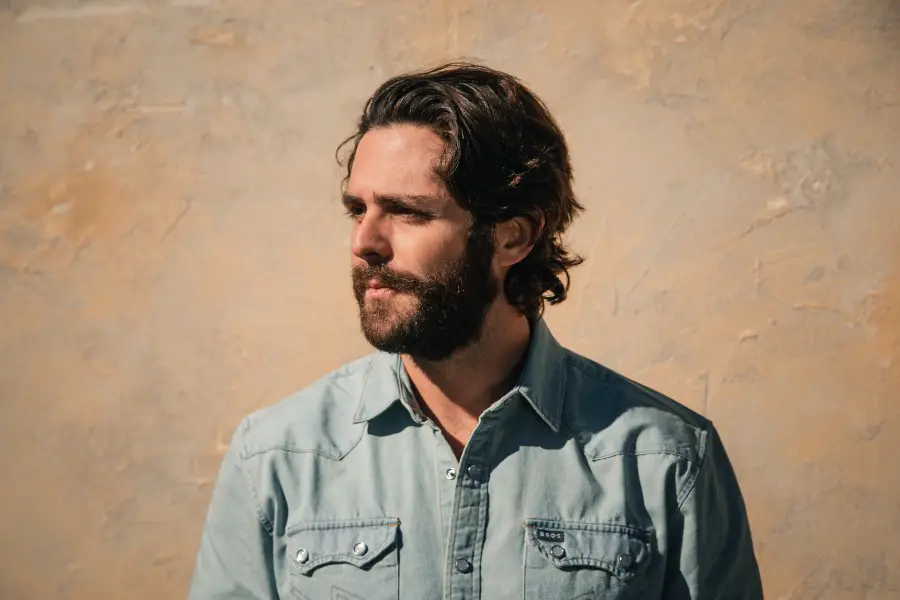 Thomas Rhett isn't wasting any time getting new music out to his fans. As he was celebrating his 19th No. 1 hit, with "Slow Down Summer," the father of four also released a new single, "Half of Me." The song, from Rhett's latest Where We Started album, features Riley Green on the track.
"Today is a really cool day," Rhett says. "I'm pretty blown away to be celebrating my 19th No. 1 with 'Slow Down Summer' and the release of my new single 'Half Of Me.' I wrote both of these songs with my dad, which is special to me, and several other truly incredible songwriters. I hope fans have as much fun singing along to 'Half Of Me' as we did writing it."
"Thomas Rhett always puts out great songs, and I was excited when he asked me to sing on this one," adds Green. "It's going to be a fun beer-drinking song for the summer."
Rhett and his father, Rhett Akins, wrote "Half of Me" with Josh Thompson and Will Bundy. The song came together quickly, after Rhett asked Thompson if he wanted to go work out with him, and Thompson said that half of him wanted a cold beer, and the other half did too.
"I remember I was like, 'We have to go write that right now,'" Rhett recalls. "So we went on the bus, and we literally sat there for 35 minutes, and this song fell out. And when we went into the studio to record it, I was like, 'This song is so cool. I love it. Who could we get on here to feature?' And Riley Green and I have become really good buddies over the last few years.
"I remember sending him that song, and I had forgotten that I had played it for him like a year previous, and we never talked about it again,' he adds. "I said, 'Man, would you feature on this?' and he was like, 'Absolutely.'"
Rhett is not only proud of "Slow Down Summer" and "Half of Me" on Where We Started, but of all of the songs, including the title track, which he sings with Katy Perry. "Death Row" with Tyler Hubbard and Russell Dickerson, and more.
"The challenge is still there to always be better," Rhett says. "But there is also a part of me that goes, 'I don't want to chase anymore. I don't want to try to be somebody else. I don't want to try to be somebody that I'm not. I want to sit down and write songs. And if that song happens to sound a little bit off-kilter from the genre, then that's what it is. But if it happens to hit the nail on the head, and that's what it was, too.'"
Rhett's Bring The Bar To You Tour begins on June 17, with Parker McCollum and Conner Smith serving as his opening acts.  Find music and tour dates at ThomasRhett.com.