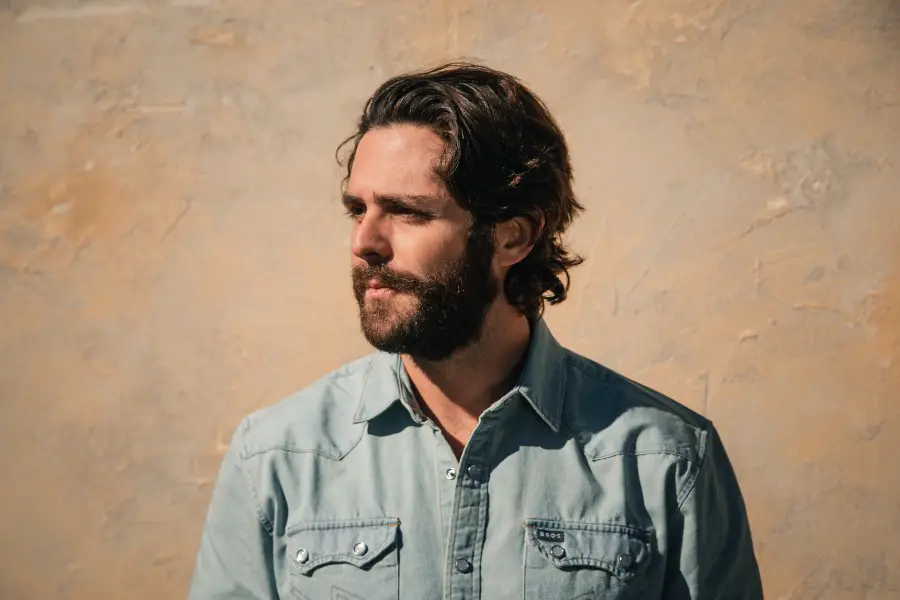 Thomas Rhett is almost a decade into his likely lengthy career in country music, but in many ways, he is just getting started. The 31-year-old will release Country Again: Side A album this Friday (April 30), the first of a double-project that is the music Rhett always wanted to make — a sound he, perhaps ironically, didn't find until he stopped looking for it.
"That's just how life works sometimes," Rhett reflected to Everything Nash and other outlets, during a virtual media event. "I remember when I was really, really obsessed with golf, and I was at the driving range five days a week. And my wife was like, 'Maybe if you just stop trying so hard at it, you'll be better at it.' And then you take two weeks off and you shoot your best round you've ever shot. I don't know how life works like that. But over the last three records, which I'm beyond proud of every bit of work that I've put out. But there's always been someone in my sights that I was kind of following. In the last few years, it was like, 'How do I make my show cooler than Bruno Mars' show?' or 'How do I make a record that feels like [Chris] Stapleton meets Justin Timberlake?'"
It was during Rhett's time at home because of the pandemic, forcing him to be creative in an entirely new way, which helped him finally find his own unique sound.
"This year, I started to sit down with a guitar and I was just like, 'What do I want to write? What makes me happy to say?' Rhett recalled. "It took a lot of the weight off my shoulders, to be honest with you. It took a lot of the pressure off. And I think when a lot of the writers started to get in on the mindset that I had for this album, things just started to happen."
It was Rhett's wife, Lauren Akins, who helped him find the perspective he needed to write songs for Country Again.
"The first 30 or 40 days of quarantine, I was freaking out because I did not know what to do," Rhett admitted. "I was like, 'We're supposed to be in rehearsal. We're supposed to be on the road. We're supposed to be doing this.' And my wife was like, 'Honey, you have to think; you have to realize that you can't do this right now. So maybe why don't you just take a step back and live some life, and then go try to write again.' And so I literally didn't write a song for almost two months, which is the longest I've ever gone, I think, in my whole life.
"And when I came back, the very first song I wrote was 'Country Again,'" he continued. "And then the songs just kind of started flowing out of me. I think the writers were kind of on board with this vision. And I think for the first time in a long time, I just was like, 'What do I want to say? What do I want to write? If this had nothing to do with anything in the world, what would I say if nobody was in here?' And these are some of the songs that just kind of flowed out of that. And it was a it was a really fun way to just to be creative and and write songs."
Country Again: Side A is available for pre-order at ThomasRhett.com.