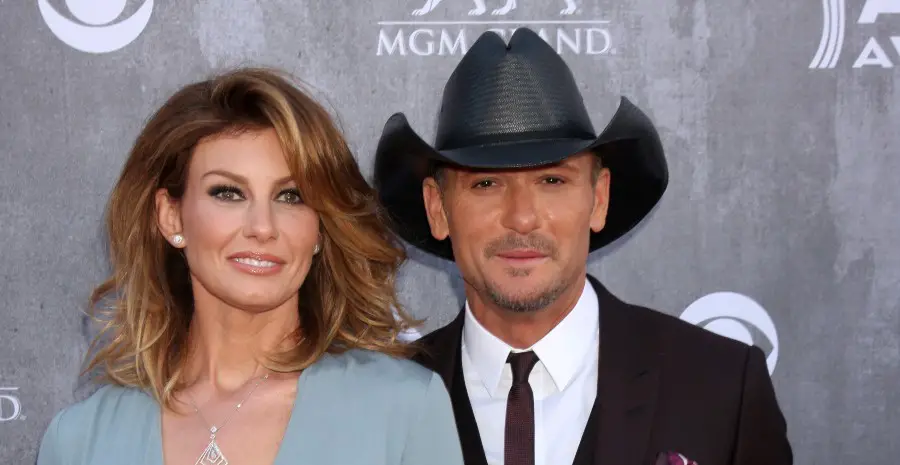 Tim McGraw has in many ways become the poster child for country music artists who choose to lead a sober life. In an industry that celebrates imbibing, sometimes to excess, the 54-year-old got sober in 2008 and has been successful in eliminating alcohol from his life since then. Still, he admits it is never easy not to drink, but he has been successful in large part thanks to his wife, Faith Hill,
"It's always a struggle. It's never not a struggle," McGraw tells People. "Those demons always come back. But you always have a partner that's willing to fight them with you. We made a commitment to each other a long time ago that we're not going to give up. It's too easy to give up."
"When you love someone, you commit to be there for them for the highs, the lows, anytime," adds Hill. "You face the struggles."
It was his Hill who McGraw went to when he realized his drinking was something he was struggling to control.
"I remember a moment when I was getting out of bed and going to the liquor cabinet and taking a big shot at 8:00 in the morning and thinking, 'I have to wake the kids up,'" McGraw recalls to Esquire. "I went straight to my wife and said, 'This is where I'm at.' I was scared. She just grabbed me and hugged me and changed my life."
McGraw might have made the final decision, but Hill had already been pointing out to her husband that his drinking was beginning to take over their lives.
"My emotional absence was noticed and it was not scoring any points," McGraw recalled in his 2019 book, Grit & Grace: Train the Mind, Train the Body, Own Your Life. "Getting real like only she can do, Faith told me, 'Partying or family, take your pick.'"
Hill was supportive of McGraw and his sobriety, but he has also helped her at pivotal moments in her life, including when her father, Ted Perry, passed away in 2019.
"It was a long passing," Hill recounts. "It's difficult to lose parents just a couple of years apart and watch them pass right in front of you. My dad had Lewy body dementia and it was difficult to watch a man you know be someone that you don't recognize."
Fortunately, McGraw was supportive, of both Hill and her father, throughout the entire, painful oredeal.
"My dad adored Tim and Tim would visit him daily," Hill shares. "He was so present for the passing of both my parents. You reveal yourself when you are going through struggles and that's just another layer of partnership."
McGraw and Hill are marking their joint acting debut in the upcoming series, 1883. The show will premiere on Paramount+ on December 19.