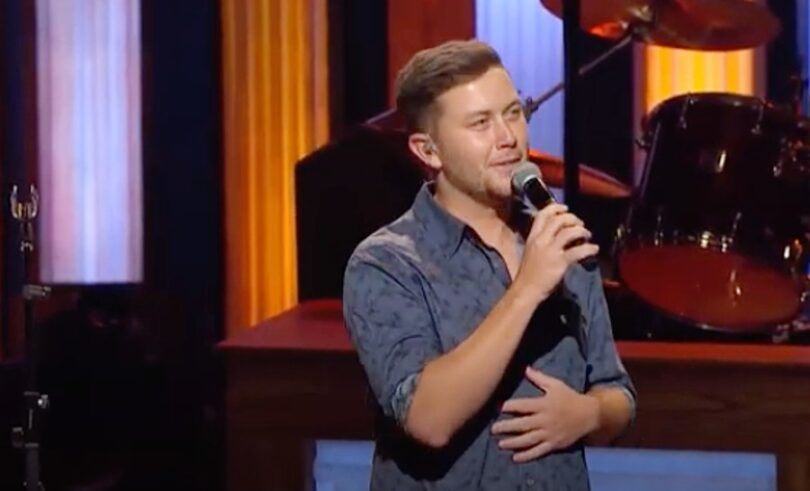 Scotty McCreery just announced his fifth studio album, Same Truck, will be out on September 17. In honor of the new set of tunes, we are taking a look back at ten of the American Idol alum's biggest and best songs he has ever released.
10. "Water Tower Town"
Cole Swindell wrote "Water Tower Town" with Tammi Kidd and Lynn Hutton, which was the third and final single from McCreery's Clear as Day debut record. Although McCreery didn't write "Water Tower Town," it reminded him of his own hometown of Garner, North Carolina.
"'Water Tower Town' is my Garner song on the album, my hometown song," McCreery told Country Music Rocks. "It reminds me of Garner, which has a big water tower right across from the baseball fields where I grew up playing ball. It has a lot of elements in there that remind me of Garner. The first lyric in the chorus is, 'Friday night football is king,' and that is true in Garner. Everybody stops what they're doing in Garner to go to the game …The song says, 'Sweet tea goes good with anything,' and that is all we drink back home. All of the lyrics really relate to my hometown."
9. "See You Tonight"
"See You Tonight" is the title track of McCreery's sophomore album, and became his first Top 10 hit. Written by McCreery, along with Ashley Gorley and Zach Crowell, it also marked the first time McCreery released a song he wrote.
"That's the one I'm really excited about because I had a hand in writing it," McCreery previously told Billboard. "That is one of those things I didn't have a chance to do on the first record because coming off Idol as the winner, you have a deadline for the first record. We were on the Idol tour as well so we were trying to squeeze it all in."
8. "I Love You This Big"
"I Love You This Big" was McCreery's first single he released after winning American Idol. The powerful song, written by Jay Smith, Ronnie Jackson, Ester Dean and Brett James, was performed by McCreery after being crowned the Idol winner.
"It was perfect for the American Idol moment onstage because it could relate to my family or it could relate to my fans out there who got me through the whole American Idol journey," McCreery said (via Songfacts). "We thought it would do pretty good at country radio, too, and we'd give it a shot, and it did just that.It will always be special to me because it's my first song. Once I started singing it in front of crowds, it took on a new life. I would look up and their arms would be spread open wide when I'd sing 'I Love You This Big.' It was just a cool thing to see. It always puts a grin on my face when I look out there and see their arms open wide and see a husband and wife looking at each other with their arms opened wide."
7. "The Trouble With Girls"
Chris Tompkins and Phillip White wrote "The Trouble With Girls, which was McCreery's second single. McCreery pushed his record label to include it on his Clear as Day record, because of the song's sweet message.
"I told my mom, 'If you were at home doing dishes, this is the kind of song that makes you stop what you are doing and listen to it,'" McCreery told The Boot. "It has a haunting melody. After I listened to the demo once, I found myself singing it in the room and going out to dinner and humming it to myself there. When you hear that kind of song and you can't help but keep singing it, you know you've got a good one."
6. "Feelin' It"
Matthew West and Frank Rogers penned "Feelin' It," which was the second and final single released from See You Tonight. The song, which landed in the Top 10, might not have ever been released if not for McCreery's friends at North Carolina State University, where he was attending at the time he recorded this song.
"With me being in college, I live with three buddies, so I bounced ideas and songs off of them," he said at the time. "So far, they are partial to 'Feeling It,' so we'll see how that one does. My roommates say that one is going to be my biggest song yet!"
5. "You Time"
McCreery was inspired to write "You Time," the debut single from Same Truck, by missing his wife, Gabi, when he was spending so much time on the road, and she was working as a nurse.
"It was really a time where she was super, super busy at work," McCreery told Everything Nash of the song which he wrote with Rogers and Aaron Eshuis. "I was just on the road constantly. I'd come home from the road and she'd be going out to work, and we'd just be passing each other, all the time. So, it was at a moment where I was really craving some you time. Like, we can see our friends later. We'll see the family later, but right now just needs to be you time,"
4. "In Between"
"In Between" was the final single from McCreery's fourth album, Seasons Change. McCreery penned the song with Rogers, Jonathan Singleton and Jessi Alexander, as a response to those who wondered if his spiritual convictions set him apart from everyone else.
"I'll go out to dinner and people will ask, 'Is it OK to have a drink around Scotty?'" McCreery told Rolling Stone of the song, which says in part, "I ain't all holy water and I ain't all Jim Beam / I'm somewhere in between." "I go, 'Are you kidding me? I'll have one with you.' My faith is a huge part of what I do, but I'm a human being, and I like to have fun. That's everybody. I don't think anyone is one thing or another."
3. "Damn Strait"
"Damn Strait," McCreery's tribute to the legendary George Strait, is also from Same Truck. Written by Trent Tomlinson and Joe Collins, McCreery knew as soon as he heard it that it was perfect for his latest record.
"I was writing songs left and right," McCreery told Everything Nash. "We had the songs put on there, but for me, when I heard a song 'Damn Strait,' I immediately raised my hand and said, 'Me, me, me.' It's such a cool song. It's so cleverly written. And obviously, I'm a massive George Strait fan. It just sounded so much like me."
The video for "Damn Strait" was filmed at Gruene Hall, in New Braunfels, Texas, where Strait got his start.
2. "Five More Minutes"
"Five More Minutes," the debut single from McCreery's Seasons Change album, also became his first No. 1 hit. The song, which McCreery wrote with Rogers and Monty Criswell, inspired by the loss of McCreery's beloved grandfather.
"I was just kind of talking to [Rogers] about Grandaddy, and [how] there were a few things I wanted to tell Grandaddy that I didn't get a chance to," McCreery told The Boot. "I was kind of reminiscing on what we'd do together: We'd golf together and swim together in his pool in the backyard. Monty was the one who had the idea that you just wish you have five more minutes with them; he had the idea for the song, and I said, 'Yeah, man, that's the title.' We wrote the song around that — tried to make it pretty autobiographical and pretty relatable to the folks out there."
1. "This Is It"
It might be hard for McCreery to ever write a song as personal as "This Is It." The song, which McCreery wrote with Rogers and Eshuis, was written in preparation for him proposing to Gabi, after dating for several years. McCreery, who later performed the song at his own wedding reception, used footage of their wedding for the music video.
"It's our wedding song," McCreery told PopCulture.com. "I sang it to her the night of our wedding. I don't think we could have had actors or actresses portraying that. It's our story, so it had to be us."