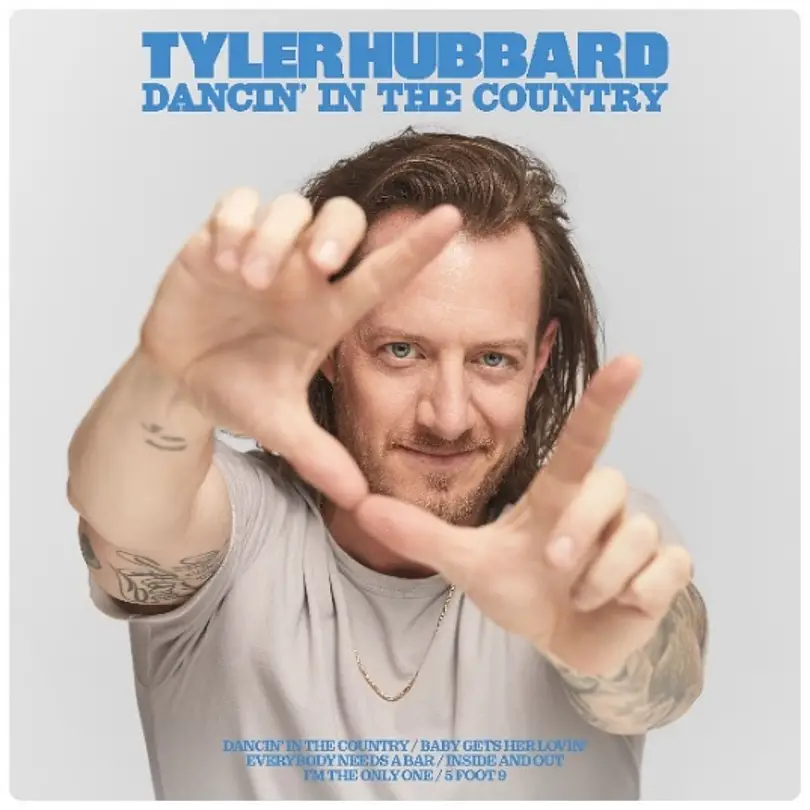 We now know more about Tyler Hubbard's forthcoming new project. The father of three reveals his first solo album, Dancin' In The Country will be out early next year, on January 27. But eager fans won't have to wait until 2023. Hubbard will drop five new songs on August 19, adding to the three songs he has already released, which are  "5 Foot 9," "35's," and "Way Home."
"We've been releasing new music throughout this summer, and now I'm so pumped to be sharing even more of my new project – these songs have been waiting to be heard!" Hubbard says. "Though the album is coming early next year, I put together this collection of music especially for the fans, as I get ready to go on tour. I can't wait to hear the crowd sing these songs with me as I hit the road for the first time as a solo artist."
Hubbard, who also shared the exciting news on social media, is announcing his debut solo project as he and his Florida Georgia Line partner, Brian Kelley, wrap up their joint shows so they can both work on their own individual music. Hubbard is releasing more new songs ahead of his run with Keith Urban, serving as an opening act on Urban's The Speed of Now World Tour.
I'm dropping a new batch of songs called Dancin' In The Country on August 19th. I wanted to get some more music out to you before hitting the road with @KeithUrban this Fall. I can't wait to share these songs and play them for y'all on tour.https://t.co/JoJgTBYLoD pic.twitter.com/nqOvX6SOTK

— Tyler Hubbard (@tylerhubbard) July 29, 2022
"I've been writing and recording a lot of new music for my first solo album, songs that are made to be played live," Hubbard said when the tour news was announced. "I am so excited to be joining Keith on his fall tour and can't wait to play them for the first time for fans across the country."
While Hubbard won't say definitively whether or not Florida Georgia Line will ever reunite again, the 35-year-old does say that he is only focusing on his own music, at least in the immediate future.
"Right now it's hard to say if there is a world where they can both co-exist," Hubbard acknowledges. "But  I naturally tend to just want to go all-in on whatever it is I'm doing. We all know how much work goes into making a career work. And for me to try to manage and successfully execute two careers simultaneously just seems — I'm not going to say impossible, but not very realistic, and I could see it getting real sticky and really confusing, at least at the beginning."
See a track list for Dancin' In The Country below. Pre-order the record here. Find music and tour dates at TylerHubbardOfficial.com.
1. Dancin' In The Country (Written by Hubbard, Jon Nite, Ross Copperman, Keith Urban)
2. Baby Gets Her Lovin' (Written by Hubbard, Jesse Frasure, Canaan Smith) *
3. Everybody Needs A Bar (Written by Hubbard, Jordan Schmidt, Zachary Kale)
4. Inside And Out (Written by Hubbard, Jordan Schmidt, Trevor Rosen, Brad Tursi)
5. I'm The Only One (Written by Hubbard, Chris Loocke, Rhett Akins)
6. 5 Foot 9 (Written by Hubbard, Jaren Johnston, Chase McGill)