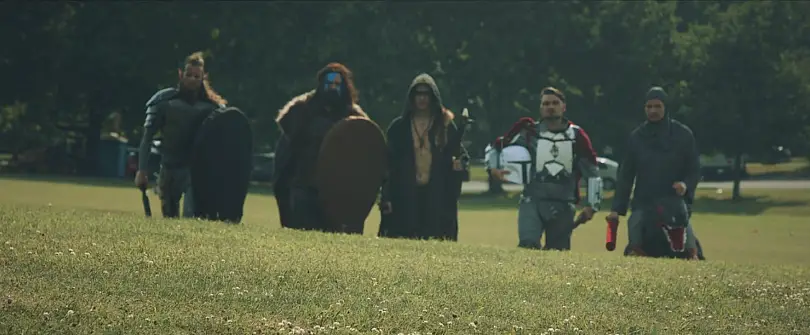 Home Free's new video is quite the mix of … a lot. The group covers NEEDTOBREATHE's "Brother," with a video that meshes a lot of fantasy into one cohesive, and highly comedic video.
Home Free, who teased the video on TikTok earlier this week, is also hard at work on a new album. Rob Lundquist tweeted a photo of himself in the studio, revealing that he was finishing up his vocals on a forthcoming new project.
Although Home Free has released plenty of serious songs over the years, including "From Here To the Moon and Back," "The Driver," "Unchained Melody" and more, the five Home Free members aren't afraid to show off their comedic side, such as with their "Make You Feel My Love" video, out in February.
Home Free's last album, The Sounds of Lockdown, was released in April, filled with songs Home Free recorded when off the road due to the pandemic. The 20-track album features some of their best covers, including "On The Road Again," "Crazy," "The Gambler," "Bless The Broken Road" and more. The record also includes their "One Voice" collaboration with Billy Gilman, as well as their" I Still Haven't Found What I'm Looking For" duet with Peter Hollens.
No word yet on what songs will be on Home Free's new album, but their dream would be to include an all-star collaboration.
"We're real country music fans," Austin Brown tells Everything Nash. "So we look up to everybody in this industry … We know that Dolly Parton has at least heard a pitch from us. She was interested last year, and she was like, 'Maybe next year,' 'cause she had a thing last year. So who knows. There's no validity to that. That's just a hope. Ideally, we'd love to work with Dolly. And one of my favorite artists in country music of all time is Travis Tritt. I'd really love a chance to get to work with him."
Home Free will embark on their Road Sweet Road Tour in September. Maggie Baugh will serve as the opening act for the first set of dates, while Casey Barnes will join them for three shows in October, and Erin Kinsey will open for Home Free for 11 dates throughout the remainder of the month.