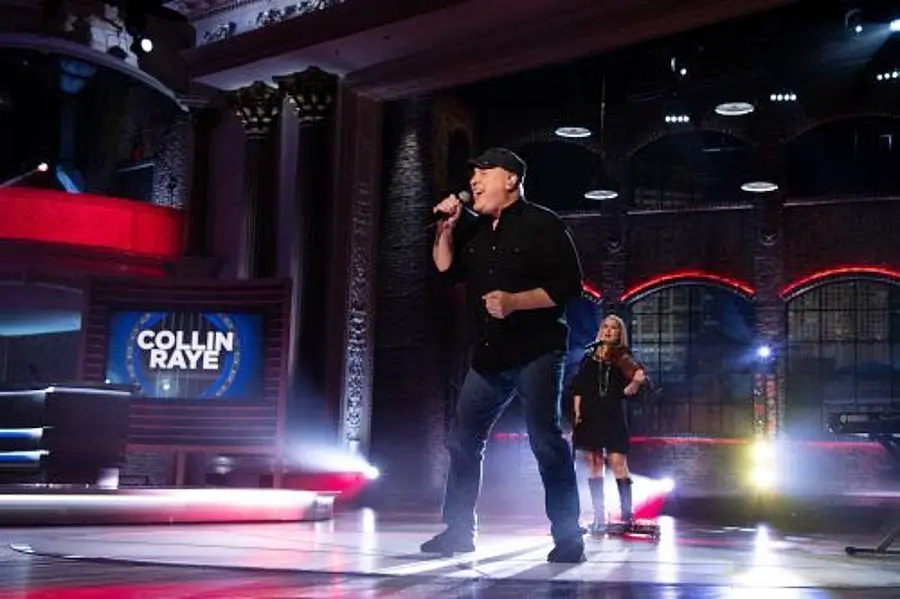 Collin Raye visited the set of Mike Huckabee's TV show, Huckabee, over the weekend to perform several songs, including the title track of his upcoming album, SCARS. The former governor of Arkansas also joined Collin in playing guitar on the uplifting track.
Collin previously opened up about the song, which is a duet with Miranda Lambert. The song was co-written by Collin's brother, Scotty Wray, who is a longtime member of Miranda's band.
"She'd been threatening to do it for a while," Collin shared on The Bobby Bones Show. "We've known each other a really, really long time. In her early, early days, I'd do things where I'd show up and play on the bill that she was on and whatnot, when she was just getting started. which she appreciated … I guess this was her little favor to me and to Scotty to get to do this. And of course, she killed it.
"She's a great singer in the studio," he continued. "Scotty was hoping she'd cut [the song], and she goes, 'Well, I'm thinking about it, I'm thinking about it, I'm thinking about it.' And so I said, 'Well, heck, if she's not going to do it, then I'm cutting it.' And then to bring her in on it, obviously she knew the song so well, I bet she wasn't in the studio 15 minutes and just killed it. It really kind of anointed this record, having her on there."
Collin previously revealed to Everything Nash that Miranda was joining him on "Scars."
"I'm so proud of it, and I can't wait for it to come out," Collin shared, adding that the song was just one track on a new set of tunes that he was eager to share with his fans.
"I think it's the best album I've ever done," said the singer. "I know people always say that, but I truly mean it. I wrote or co-wrote, or my brother [Scott Wray] wrote or co-wrote every song on the album. It's kind of a full-circle thing, because he and I started this whole music thing together when we were kids. And to get back around to working with him again, like that, it's made it a very personal record.
"There's songs on there that I think people are just really going to love, really personal things," he continued. "It's kind of aimed more at the Americana market, which to me, when I heard they wanted me to do an Americana record, my first thought was, 'OK, well that kind of means no rules, right? A record of what you want to say, as opposed to the days when you had to make a record groomed room totally for radio."
SCARS, which also includes a duet with Vince Gill, will be released on November 20. It is currently available for pre-order at CollinRaye.com.