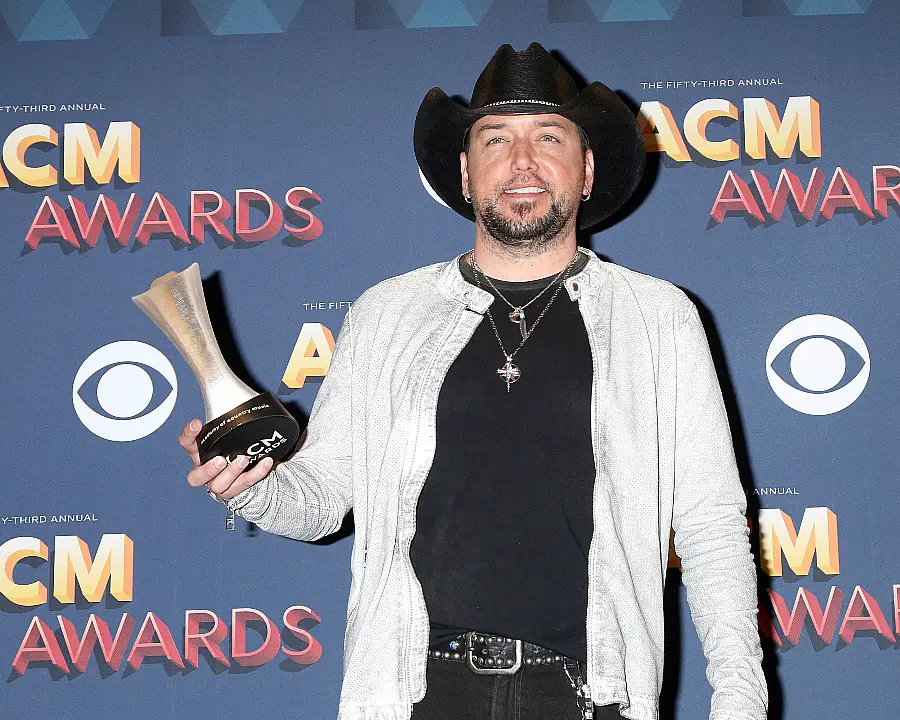 The 2021 ACM Awards nominees are out! While there are plenty of worthwhile nominees, like Ashley McBryde's Album of the Year nomination, for Never Will, or Carly Pearce's Female Artist of the Year nod, there are still plenty of snubs, along with a few welcome surprises. See our list of snubs and surprises below.
1. Carrie Underwood — SNUB
Carrie Underwood is the reigning ACM Entertainer of the Year (along with Thomas Rhett), so it seems odd that she only has one nomination this year, and it's for Video of the Year, for her "Hallelujah" collaboration with John Legend. Her entire My Gift album was a stunning collection, and she definitely deserved more. Much more.
2. Jason Aldean — SNUB
Jason Aldean was named the ACM Artist of the Decade in 2018, which was also the last year he was nominated. He continues to dominate at radio, and since then also released his album, 9. Why he continues to get snubbed, in spite of churning out hit after hit, is perplexing.
3.Jimmie Allen — SURPRISE
This is Jimmie Allen's second time to be nominated for an ACM Award, and also his second time to be nominated in this category. While he definitely could have been nominated in some of the other categories, like Album of the Year (for his collaborative Bettie James album), it's so nice to see him nominated, for anything.
4. Entertainer of the Year — SNUB
We had hoped, when Underwood shared the Entertainer of the Year category with Rhett, that more females would be nominated in the Entertainer of the Year category. Alas, all five artists in the category this year — Luke Bryan, Eric Church, Luke Combs, Thomas Rhett and Chris Stapleton — are men. Look, we get that 2020 was a unique year for artists, but surely there was room for a Miranda Lambert or Underwood, or even a Reba McEntire or Maren Morris.
The last time a solo female artist won Entertainer of the Year was Taylor Swift in 2011. We can do better.
5. Home Free and Lee Greenwood – SNUB
All of the collaborations in Music Event of the Year are valid ones, but it certainly seems that there should have been room for the Home Free and Lee Greenwood "God Bless the U.S.A." collaboration, with the United States Air Force Band. The song hit No. 1 the week it was released, with the video garnering almost three million views.
6. HARDY – SURPRISE
It's refreshing to see HARDY nominated three times, and not just for his songwriting. HARDY, who is rightfully nominated for Songwriter of the Year, is also nominated for Music Event of the Year (for his "One Beer" collaboration with Lauren Alaina and Devin Dawson), as well as New Artist of the Year. HARDY, who was part of the Country Radio Seminar's New Faces Show, deserves to be recognized for all of his talents.
7. Single of the Year — SURPRISE
In spite of the male-dominated Entertainer of the Year category, the Single of the Year category hints that the tide might finally — albeit slowly — be turning for women in country music, since all five songs nominated are by female artists, with the only male presence being Lee Brice, with his "I Hope You're Happy Now" duet with Carly Pearce.
8. Lee Brice — SNUB
Lee Brice was nominated for both Single of the Year and Music Event of the Year, for his "I Hope You're Happy Now" collaboration with Carly Pearce, but he failed to receive any nominations on his own, which doesn't make sense. The Georgia native also had a No. 1 song with "One of Them Girls," from his Hey World album. He deserved to be recognized.
9. Rascal Flatts – SNUB
The Group of the Year category includes Lady A, Little Big Town, Old Dominion, The Cadillac Three and The Highwomen. While The Cadillac Three definitely deserve credit, which is probably long overdue, they haven't had a Top 40 hit since 2013. Meanwhile, Rascal Flatts — whose window for being nominated is waning since they are now working on solo projects — hasn't been nominated for a category by themselves since 2016. Their How They Remember You album came out last year, and the title track became a big radio hit.
10. Mickey Guyton – SURPRISE
The Academy of Country Music, in the press release announcing the nominees, noted that this year is the first time four Black artists are nominated at once. Even sharing that information feels a bit disingenuous, as the Black artists nominated each deserve to be nominated solely based on their music. Regardless, Mickey Guyton's nomination for New Female Artist of the Year is a category she more than deserves to be nominated in, and frankly deserves to win. She's a trailblazer, an inspiration, and has a voice that rises above the rest.
The 2021 ACM Awards will air live from the Grand Ole Opry, the Ryman Auditorium and the Bluebird cafe, on Sunday, April 18, at 8:00 PM ET on CBS.