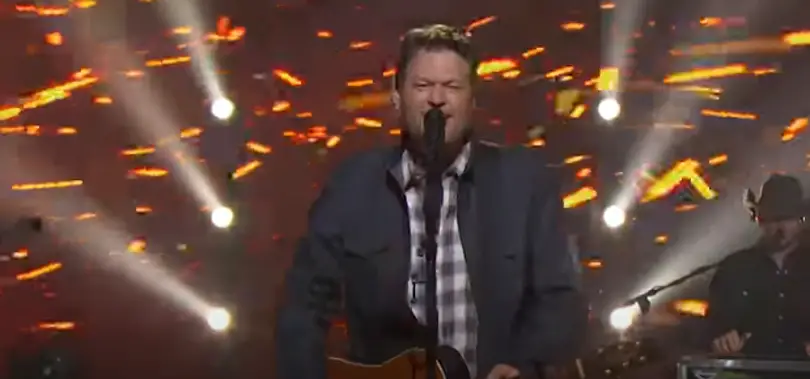 Blake Shelton took his latest single, "Come Back As A Country Boy" to The Kelly Clarkson Show. The song, from his latest Body Language album, was written by  HARDY, Jordan Schmidt and Josh Thompson.
Shelton previously said the song celebrated the average hard-working American, one he happens to be as well.
"I think this song is an anthem for everyday hardworking country people out there," Shelton said of "Come Back As A Country Boy." "We have so much pride in who we are and what we do that, if we ever died and got the chance to live life over again, we probably wouldn't do it if we couldn't be country."
Shelton might be one of the biggest superstars in country music, but he also works hard on his own Oklahoma ranch, which his wife, Gwen Stefani, recently praised.
"When we do things, we go big, and we're doing major gardening," Stefani revealed on The Ellen Degeneres Show.  "We're talking about daffodils, we're talking about tulips — everything. We already did all the bulbs, and we did wildflower seeds. Now we're doing zinnias. So I sent him home to figure out how to till all of the land, and dig a well."
The video for "Come Back As A Country Boy" was filmed at Shelton's own ranch, a testament to his hard work on the expansive property.
"When the discussion started happening about a music video for 'Come Back As A Country Boy,' I knew I wanted to do something authentic to me," Shelton explained. "Every time I say that, my first response is, 'Well I need to do it at the ranch. I need to do it in Oklahoma. That's where I'm from, that's where I live. That's me."
"My idea though was, I'm a huge fan of Marvel movies. I'm a huge Avengers fan. I watch all of those movies. I've seen them all; I've watched them all," he continued. I" said, 'Why can't just a country guy have superpowers? Now wouldn't that be cool if a good ol' country boy could do things like push over giant trees, or with just one swath of his hand rake up an entire river up on the bank."
Watch the video for "Come Back As A Country Boy" here.