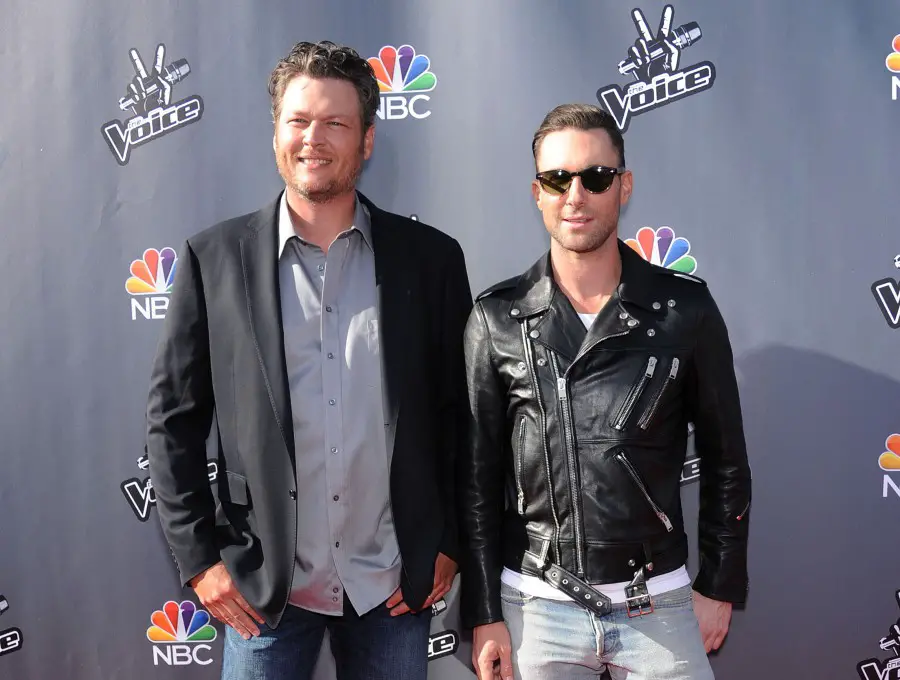 Blake Shelton and Gwen Stefani haven't set a wedding date yet, but when they do finally get married, the country music superstar wants Adam Levine and his band, Maroon 5, to perform for the big day. The two men, who met while both coaching on The Voice, are still friends, which is why Blake expects the rock singer to oblige.
"I've kind of decided that — I've been doing this a long time now and I've got a lot of favors out there," Blake said on Late Night with Seth Meyers. "He may not like it, but Adam Levine's gonna have to get the band together and come and play our wedding."
Blake also referenced the video for Maroon 5's 2015 hit, "Sugar," which showed the band crashing weddings, drawing inspiration from the 2005 film, Wedding Crashers.
"I've already seen a music video where they crash people's weddings and he owes me a lot for just putting up with him over the years," he added. "So I think we can get Adam to come be our wedding band."
Blake may want the rocker to perform for the ceremony, but the couple has yet to set a wedding date, and likely won't set one for at least the next few months.
"I would say I just want my parents there at this point," Gwen shared on On Air with Ryan Seacrest (via People). "My parents wouldn't come to Thanksgiving because they're so scared so really I would rather it not be a COVID situation. Like, I would rather not have masks and that kind of thing."
"Even when you cut it down to just family, it's too many people for COVID so we're going to see what happens in the next few months," she added.
Adam coached for the first 16 season on The Voice, before leaving the show.