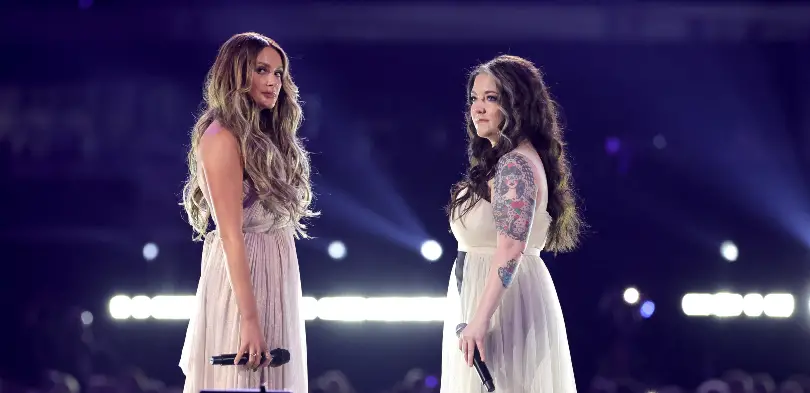 Carly Pearce was already a fan of Ashley McBryde before they teamed up together to write, and later record "Never Wanted To Be That Girl ," from Pearce's latest 29: Written in Stone. But now that they have a chart-topping single with their latest duet, Pearce is happy to gush about her friendship with McBryde.
"Ashley is like the friend you never knew you needed," Pearce says on Big D and Bubba's radio show. "She is hilarious. We kind of joked around that we'd get a tattoo if 'Never Wanted To Be That Girl' went No. 1, but I told her that she can't choose what it is, because I'm scared … I'm like, 'I will pick what it will be and where it will go on my body.'"
Pearce for years liked not only McBryde's music, but also who she was as a person, which is why she reached out to McBryde to collaborate.
"The whole reason that I wanted to write with her is kind of that infectious personality that she has," Pearce shares. "Over the last few years I saw it, but also was such a fan of her music. I was like, 'I just want to team up with you.'"
"Never Wanted To Be That Girl" is from Pearce's latest 29: Written in Stone album, along with the pure country song, "Dear Miss Loretta." Pearce initially wrote that song in tribute to her musical hero, Loretta Lynn.
"That song is funny to me," Pearce says, "I don't really get to share this story very often, but I wrote that song over Zoom during my divorce. I wrote it with Brandy Clark, and I was like, 'Wow, this is such a great song. It is so country, it'll never see the light of day. Cool.' And then I just got like a wild hair to sing it on the Opry one night, and it kind of became the next phase of writing the second half of 29: Written In Stone. So it's just funny, and then to get to sing it with Patty [Loveless], which is one of the greatest vocalists of all time in our genre,"
Fortunately, Lynn not only heard Pearce's tribute to her, but she gave her hearty approval to the song, by sending Pearce a message.
"I got a voice text," Pearce remembers. "My manager sent me a message and he said, 'Are you sitting down?' and I was like, 'Okay, this is either going to be good or bad,' and then I just got a voice memo, like a recording, and I clicked on it, and it was Loretta. She was like, 'Hey Carly.' I wish I had my phone because I would play it for you. And she's like, 'Hey Carly, I'm just in the bed. I need to get up and wash my face but I don't know, I'm not gonna see anybody so I don't know that it matters, anyway.'
"I'm not kidding, it reminded me [of] my grandmother, who really was a coal miner's daughter – that's not just for the song – she used to talk in real-time like that, so it just made me laugh so much," she adds with a laugh. "But she was like, 'I love your song. I love you. Come and see me sometime.'"
Unfortunately, "Dear Miss Loretta" will not be a single at radio. The Grand Ole Opry member just announced that her final single from 29: Written in Stone is "What He Didn't Do," out now. Find all of Pearce's music at CarlyPearce.com.
Photo Credit: Getty Images for the ACM Awards