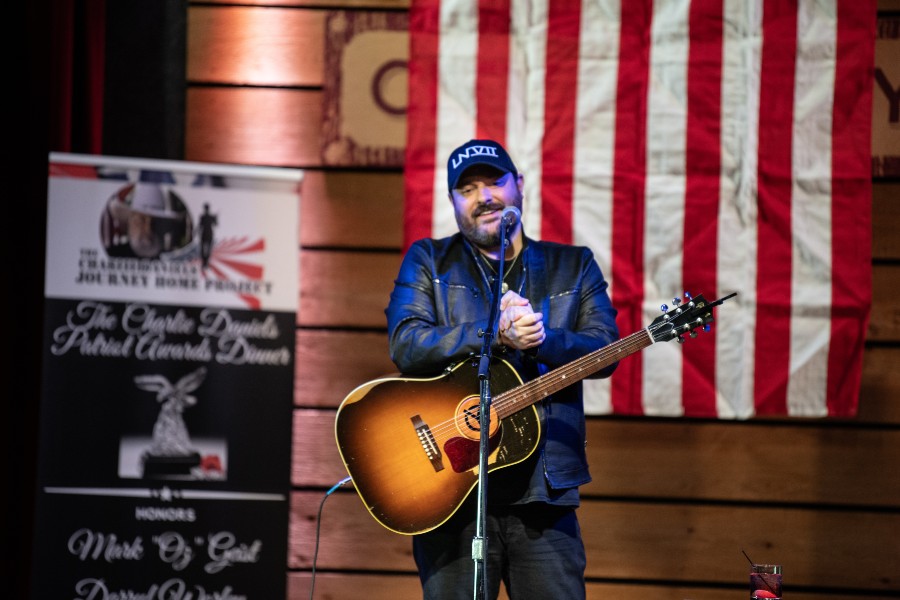 Charlie Daniels might not be with us anymore, but his legacy continues. More than $250,000 was raised for The Charlie Daniels Journey Home Project at the third annual Charlie Daniels Patriot Awards dinner, continuing a cause the Country Music Hall of Fame member was passionate about, even in his absence.
Darryl Worley, Mark "Oz" Geist (Benghazi survivor and co-author of 13 Hours / U.S. Marine Corps, retired), the Daniels Center at MTSU (Middle Tennessee State University) and firearms manufacturers Marty and Cindy Daniel of Daniel Defense were the recipients of this year's honors, hand-picked by Daniels before he passed away in 2020.
"It's just heart-wrenching to think that I was on the top of his list,"  Worley tells Everything Nash. "I really wouldn't want it to come any other way. I think the special part of that is that he had a very special place in my heart. And without saying it out loud, that kind of reciprocates that from him, and that's huge."
Daniels' longtime manager, David Corlew, vowed to continue the cause Daniels was passionate about, even without the country music icon, including with the Patriot Awards.
"He and I exchanged names all the time, whether it's over a cup of coffee, or we talked about all the people felt qualified or at least fit what we felt like a great Patriot was," Corlew says. "What was ironic was, I went into the board meeting after Charlie passed away. It was our first meeting … On my agenda was to talk about potential recipients. I remembered that I had a list of people that Charlie had given me, and only just a few people in that class. There were a lot of people on the general list, but he said, 'I want these people. I want to make sure this gets done.'
"And then after he passed, I thought, 'We've got to do that list, before we start creating a new list.," he adds. "And in that new list, we'll also have the support of Charlie, because the general was long, but Darryl was on the top."
Geist was honored to know Daniels while he was alive, which makes being a Patriot Awards recipient even more meaningful to him now.
"My whole life has been about service too, and being a part of something bigger than myself," Geist says. "I was raised in the Methodist church and then joined the Marine Corps, got out and was in law enforcement, and went back as a private contractor. After I got injured in Benghazi, what I needed to do is help those, so they didn't have to go through what I went through."
Former New York City Police Commissioner Bernie Kerik was among the speakers during the Patriot Awards Dinner, honoring both Daniels and the cause he was passionate about: supporting military veterans.
"I got to see Charlie not only through the Journey Home Project, but through the USO, and other military charities," Kerik says. "This is a man that loved this country. He loved them and the military. He loved first responders and he would do anything in his power to help them. In my opinion, this is one of the best charities out there when it comes to really supporting wounded warriors, because it was all about them. It wasn't about administrative costs or other stuff. It was about Charlie doing what he wanted to do for the military. And I believe in that."
Chris Young, a former Patriot Award recipient, performed "Gettin' You Home (The Black Dress Song),"  "Famous Friends," and "The Dashboard," and also made a large donation to The Charlie Daniels Journey Home Project following his performance.
"This isn't just an event, but a movement and a legacy for Charlie," Young said from stage. "I'm so grateful that you wanted to have me here to play some music and be a part of it."
The Charlie Daniels Journey Home Project supports military veterans returning to civilian life in a wide variety of ways. Click here to make a donation to The Charlie Daniels Journey Home Project.
Photo Credit: Courtesy of Absolute Publicity / Robyn McIsaac