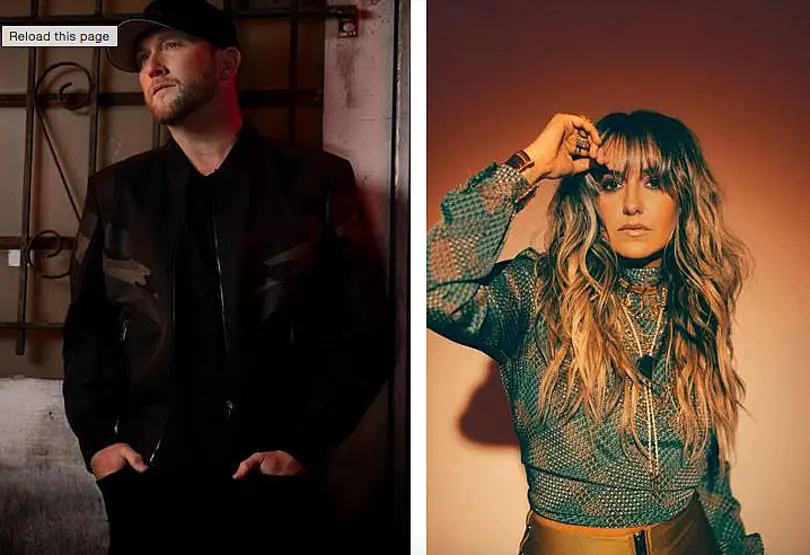 New music is coming from Cole Swindell and Lainey Wilson! The two singers will release a duet, "Never Say Never," out on Thursday, November 18.
Swindell and Wilson announced the collaboration on social media, with a humorous video of things each of them would never do. For Swindell, those things included changing a tire and wearing bell-bottoms, while Wilson said she would never switch hats with Swindell or drink a White Claw.
I've been waiting a long time for this one. @laineywilson LET'S GO 🤟🏻 #NeverSayNever comes out THURSDAY. Pre-save now. https://t.co/VK17WroTUS pic.twitter.com/H55HmdnweJ

— Cole Swindell (@coleswindell) November 16, 2021
All kidding aside, the song, which they tease at the end of the video, comes as both stars are having unforgettable years. Wilson just scored her first No. 1 hit, with "Things a Man Oughta Know," from her freshman Sayin' What I'm Thinkin' album.
Meanwhile, Swindell just dropped "Some Habits," from an upcoming new album. The song follows his latest No. 1 hit, "Single Saturday Night," and is from his upcoming fourth studio album.
"I think a lot of people can relate to a song like 'Some Habits' – it's a love song about being rough around edges but meeting someone that changes you for the better," Swindell says of the song. "I feel like I have a deeper appreciation for getting to make music these days, especially with this opportunity to be back out on the road performing and sharing this music face-to-face with the fans."
Swindell's career might be at an all-time high, but he has recently also dealt with some personal hardships as well. The Georgia native revealed in September that his mother had passed away, eight years after he lost his father.
"She's the one that keeps me humble," Swindell previously told PopCulture.com. "She's the one that, no matter how stressed out I get, if I wanna be here or wanna be there, she is always the first person to remind me, 'Come on, Cole. Think about it. Me and you would have never thought you'd be where you are right now.' I always say that, but I mean it because it takes someone like her to put it all in perspective.
"This world, this business, it keeps you on the ground, always wondering what's next, instead of thinking about, 'Look at what we've done,'" he added. "She's always the one that's the first to remind me, and I can't thank her enough."
Swindell just wrapped up his run serving as the opening act on Thomas Rhett's Center Point Road Tour. All of his music can be found here. Find Wilson's music here.