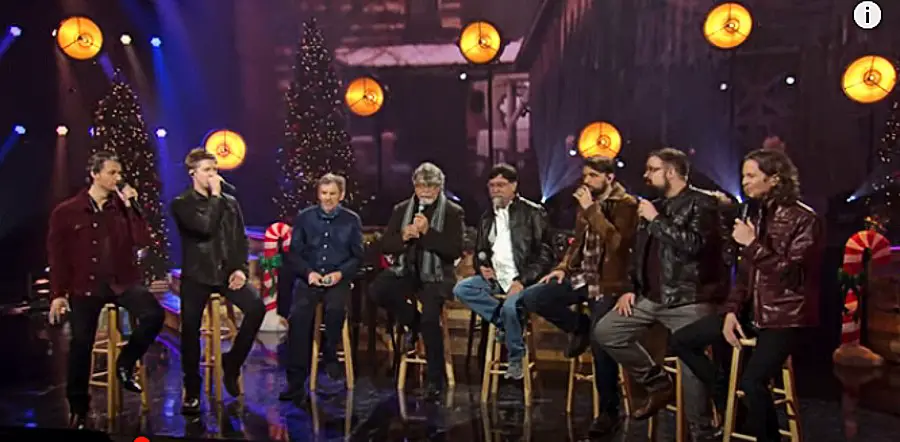 Home Free and Alabama just released their joint performance of "Christmas in Dixie." The collaboration is from Home Free's upcoming Warmest Winter holiday special, which will stream six performances, beginning on Wednesday, December 2.
"Getting to perform "Christmas In Dixie" with the legendary [Alabama band] will never be forgotten," Home Free shared on social media, in advance of the premiere. "Thanks so much to Jeff, Teddy and Randy for allowing us to remake this already beautiful song with you."
Alabama also joins Home Free on "Christmas in Dixie" for their Warmest Winter holiday album, which was released last month.
"We've known Alabama for years, and we all grew up listening to their music," Home Free member Rob Lundquist told Everything Nash. "We have opened for them in the past, and Jeff Cook has actually come out to one of our shows. We've been looking for an excuse to get them on a record, and 'Christmas In Dixie' seemed like the perfect collaboration. We were so excited they were down to record this with us."
Home Free admits they hoped Alabama would join them on both the project and the holiday special, but were still pleasantly surprised when Alabama, arguably one of the biggest acts in country music, said yes.
"Alabama is my all-time favorite country group," Austin Brown told American Songwriter. "I learned to sing harmony by listening to 'Mountain Music' and 'I'm in a Hurry,' so, needless to say, this is definitely a major highlight, if not the pinnacle of my career so far."
"They're country music royalty, and they've patented that three-part harmony," added Tim Foust. "They were always such an inspiration to us, so to not only be able to cover them but then have them sing that song with us was a dream come true."
Rachel Wammack, and Striking Matches both join Home Free for both the Warmest Winter album and the holiday special, with Jeffrey East and the Oak Ridge Boys joining them for the online special as well. Find more information at  HomeFreeMusic.com.