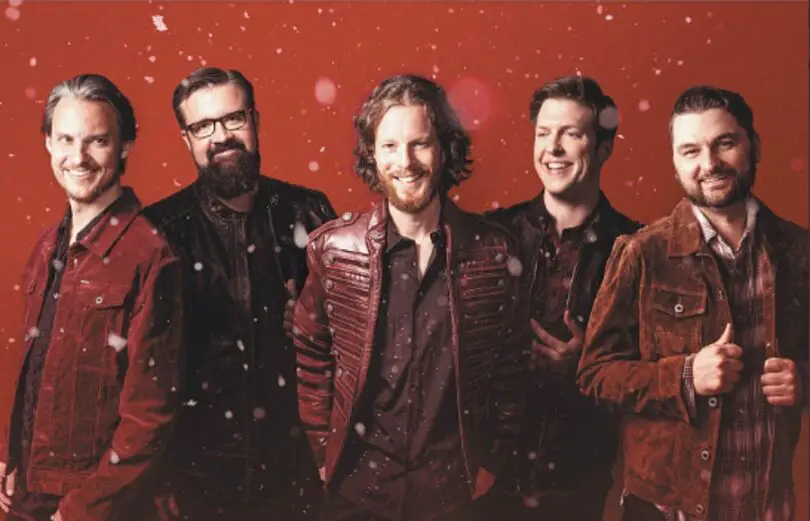 Home Free has collaborated with numerous artists over the years, but their recent collaboration with Alabama, on "Christmas in Dixie," for Home Free's latest Warmest Winter album, definitely stands out above the rest.
"Alabama is my all-time favorite country group," Austin Brown told American Songwriter. "I learned to sing harmony by listening to 'Mountain Music' and 'I'm in a Hurry,' so, needless to say, this is definitely a major highlight, if not the pinnacle of my career so far."
"They're country music royalty, and they've patented that three-part harmony," added Tim Foust. "They were always such an inspiration to us, so to not only be able to cover them but then have them sing that song with us was a dream come true."
Warmest Winter features seven cover songs and five originals, including the title track, which Austin wrote with Emma Brooke and Steven Martinez. The song is about his grandmother, called "Nani," making it one of the most personal songs he has ever written.
"I knew when I couldn't get through the third verse without crying, we had found something special—at least for my family," Austin said of the heartwarming track. "And that feels good to say. I just hope that when people hear this song, it makes them think of the ones they love the most and really reminds them to cherish the time they have with those people."
"I'm so proud of that song, and just so happy that he shared that with us," Tim said, adding that "Warmest Winter" is his personal favorite song from the record.
Home Free's Rob Lundquist previously admitted that choosing which songs would make it onto Warmest Winter — and which ones wouldn't — was especially challenging.
"It was extremely hard to narrow down songs because we have already recorded so many, and there are still so many to choose from," Rob Lundquist told Everything Nash. "We all brainstormed for weeks to see what covers we wanted to do, all the while Tim Foust and Austin Brown were doing writing sessions around Nashville, trying to come up with things for the record. I think every song that they presented we loved."
Alabama also appears with Home Free on their upcoming Warmest Winter holiday special, along with the Oak Ridge Boys, Rachel Wammack, Striking Matches and Jeffrey East. The special will be livestreamed six times, beginning on December 2. They will also perform a live show at the Ryman Auditorium on Monday, December 21. Find details at HomeFreeMusic.com.