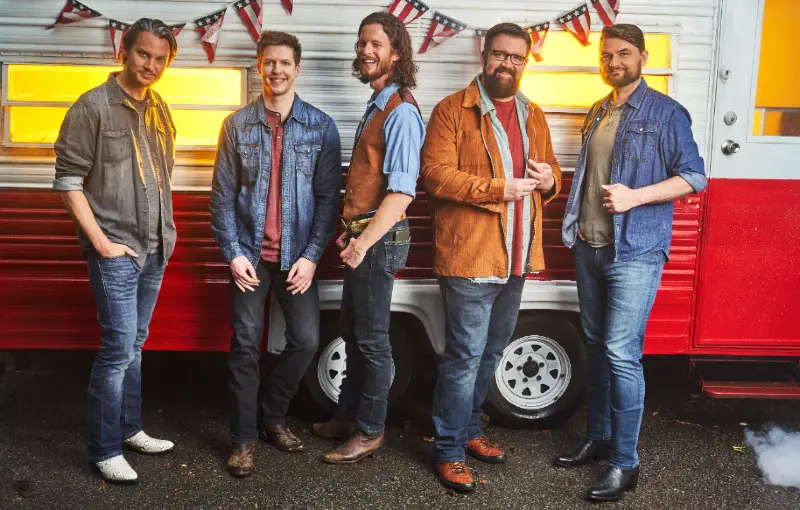 Home Free is honoring one of their own musical heroes with their latest release. The all-vocal group just released a cover of Lee Greenwood's "Between a Rock and a Heartache," which shows the guys having fun — and a lot of it — at a bar. Austin Brown's own girlfriend, Amberly, also stars in the video as the bartender.
"Between a Rock and a Heartache" is from Greenwood's 1991 When You're in Love album. It's fitting that Home Free chose to do a Greenwood song, since Home Free joined Greenwood for a new version of his epic "God Bless the U.S.A" single, along with the United States Air Force Band.
"To be able to have an opportunity to sing with the original artist, with the songwriter, with the country music legend, Lee Greenwood, and then The United States Air Force Band on top of that at this time in 2020, with so much craziness going on in the world, it's a pinnacle," Brown told Everything Nash. "It's a highlight of our career up to this point. This is something that people dream about. We need to bring this song and some love and joy into the world right now, whenever that seems like a rare commodity.
"It's a blessing," he added. "It fills my heart, and it feels like maybe what we're doing has a greater purpose than just sort of making music that people buy. There's something powerful in that."
Home Free might have been honored to collaborate with Greenwood, but the respect and admiration certainly goes both ways.
"The Home Free group is just a very special a capella band, and I've known them for years," Greenwood told Everything Nash. "They said, 'We're going to include the Air Force singers, who we know quite well.' And I do too. It was just really a good version 'God Bless the U.S.A'. And I got to be a little freer than most of the performances I have when I'm on the only soloist, because everybody had their part to sing. And there's no interference by percussion and drums, which I really am a believer in that. I like a capella performances. So it just came out really well."
Home Free just announced the release of their next studio album, The Sounds of Lockdown, out next month. Pre-order the album and find tour dates at HomeFreeMusic.com.