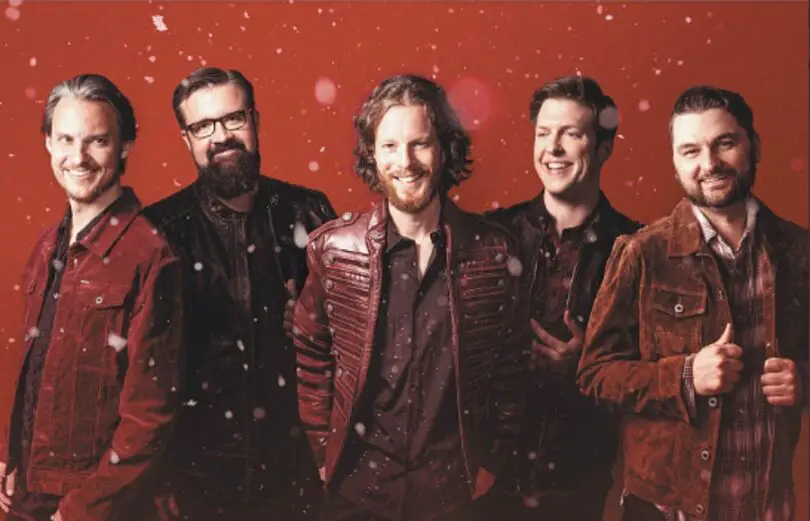 Home Free is keeping their humor intact this year, especially with the video for their song, "Cold Hard Cash." The song, which appears on their latest Warmest Winter album, was fun for the group for more reasons than just the chance to throw fake money around. The "Cold Hard Cash" video also marked the first time all five members were able to film a video together, since the start of the coronavirus pandemic.
"[It was] one of the most fun videos we've ever done," Adam Chance told People. "All of the other videos we've released over the last eight months were filmed apart from one another in our homes, and since we live in different cities across the nation, it felt great to be back together in the same place again. Our video team did an incredible job with props and set design, and all we had to do was show up and have fun."
Austin Brown co-wrote "Cold Hard Cash" with Andrew Tufano and Annika Bennett. Although the song seems like it could have been inspired by the financial challenges that have accompanied the coronavirus pandemic, the Georgia native said he actually was inspired to write "Cold Hard Cash" by too many Christmas gifts gone wrong.
"I think we've all been given a gift at Christmas that we know we'll never use and selfishly wish we had the money spent on that gift instead," Austin said. "Funnily enough, the idea behind 'Cold Hard Cash' initially sprang from me being given an over-abundance of socks one Christmas. I brought it up to my cowriters as a joke at first, but once we actually started feeling it out and writing it, it turned into this fun song that everyone seems to really vibe with."
"It's honestly hilarious to me that folks are enjoying this song as much as they are, but I absolutely love it," he added. "And after hearing this song, I doubt my family will give me socks for Christmas ever again."
"Cold Hard Cash" is one of five originals on Home Free's Warmest Winter album, which also includes collaborations with  Alabama, Rachel Wammack and Striking Matches. Their Warmest Winter Christmas special will stream six times, beginning on December 2. Home Free will also perform a live show at the Ryman Auditorium on December 21. Find more information at HomeFreeMusic.com.