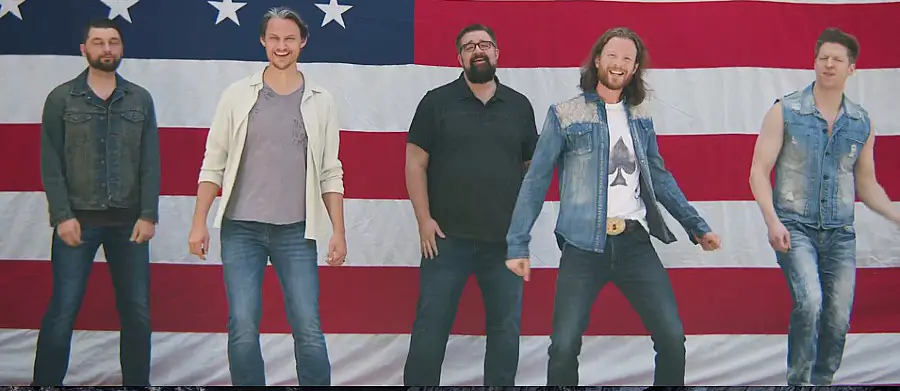 Home Free is back with another video, this time from one of the songs off of their recent Land of the Free record. The video for "America (My Country 'Tis of Thee)," was just released, and it's stunning. Shot in the meadowlands of Deadwood, South Dakota, the all-vocal group says it is "definitely up there with some of the most beautiful ones we've ever shot."
"America (My Country 'Tis of Thee)" is part of an eclectic list of songs from the record, including Tim McGraw and Tyler Hubbard's "Undivided," Brooks & Dunn's "Only in America," The Chicks' "Travelin' Soldier," Dire Straits' "Brothers in Arms" and Bruce Springsteen's "Born in the U.S.A." But it was their  "God Bless the "U.S.A." collaboration with Lee Greenwood and the United States Air Force Band" that they say became the launching pad for the rest of the record.
"That probably was a catalyst for this whole project," Tim Foust tells Everything Nash. "Seeing the way that the fans, and even folks who didn't know who we were, reacted to 'God Bless the U.S.A.' We've had two versions of that go mega-viral. We released one a few years back that went great. And then the second time around, we got to work with the Lee Greenwood, as well as the Singing Sergeants from the Air Force. So it was a really special thing."
Home Free had already been performing "God Bless the U.S.A." for years, never imagining they would get to sing it with the song's creator.
"This is a song that Home Free has been doing since Home Free started," Austin Brown says. "Literally we closed every show with this for I think 15 years. It's only been the last couple of years where we've stopped performing it as often, but we always have it in our back pocket. And depending on where we are, what kind of functions we're doing, how many veterans there may be in the audience, sometimes we'll pull it out. It's very close to our heart; that's why we've been singing for so long.
"It's one of those songs that it stands on its own," he added. "It's almost like another National Anthem. Everyone knows that. Literally, every single time we sing the song, no matter where we are, everyone stands up in the audience. The song stands on its own."
Home Free is currently on their Dive Bar Saints Tour. Find a list of all of their shows, and purchase Land of the Free, at HomeFreeMusic.com.
Want to see more exclusive artist interviews? Click HERE to subscribe to our YouTube channel.