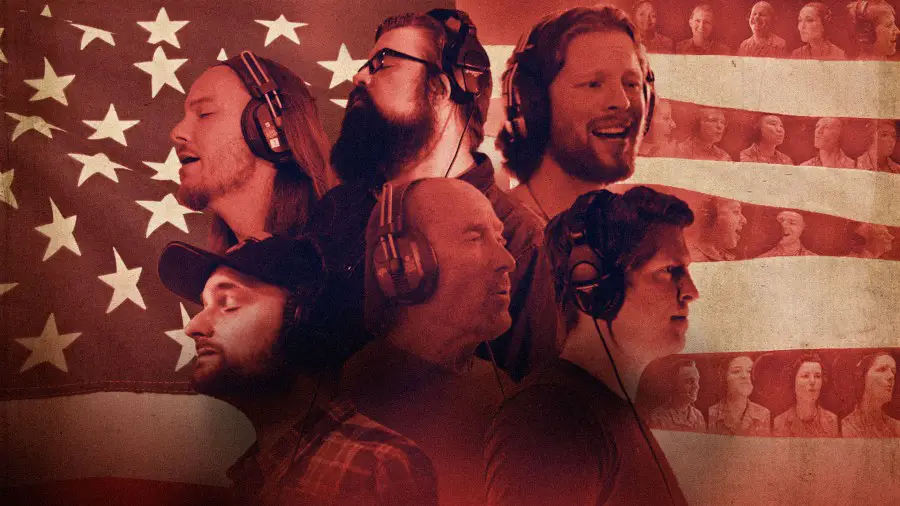 Home Free made history last year when they recorded "God Bless the U.S.A." with Lee Greenwood. Their version of the song hit No. 1 right after their version was released, 36 years after Greenwood released the original version.The collaboration was a bucket list moment for the five-man group, who had already been performing the song in their live shows for years.
"We had been singing that song since my first rehearsal," Home Free member Rob Lundquist said on RC's Social Saloon. "That was the first song that I learned, the Home Free arrangement. So we had been singing that song forever. It's how we would close every one of our shows. And the reason that we did it is because it would get a standing ovation, every single time. It was like a built-in standing ovation. Everybody loves that song so much. So to be able to collaborate with Lee Greenwood was just, it was a dream."
Home Free might have been performing "God Bless The U.S.A.," but they never imagined they would ever have Greenwood sing on it with them.
"That was crazy," Lundquist gushes. "We had met him a few times. We had seen him at the Grand Ole Opry, and so we met him a few times, and asked him if he'd be interested in doing 'God Bless the U.S.A.' with us, and he was all about it. We also got the Air Force Band to come and do that as well. We released it over the Fourth of July weekend, and it blew up. It's one of the most successful things we've ever put out, and Lee is just, he's the best. He's been so gracious. We're big fans."
Home Free recently crossed another item off of their bucket list, by singing "American Pie" with Don McLean.
"It was crazy," says Lundquist. "Another super-surreal moment. Our managers were like, 'Hey, it's 50 years that the song has been out, and Don's manager was into it. Brought it to Don, and Don's manager was like, 'Sure. Let's do it.' That's a song that I've known my whole life. I grew up singing that song. I always thought that I knew every lyric, until I actually had to go and sing it."
Lundquist didn't get to meet McLean in person, since their parts were recorded separately in the studio, but it was still an honor to join the music icon on the historic song.
"It turned out so cool," Lundquist boasts. "It's one of the only songs where we can each one of us have our own verse, and Don could have his own verse. It's the longest song ever."
Home Free has collaborated with artists from all genres, which is one of their favorite things to do.
"We've been lucky enough to work with some of the legends," Lundquist reflects. "Kenny Rogers. We got to collaborate with him before he passed. That was unbelievable. Alabama, we've done stuff with. The Oak Ridge Boys, who I can't say enough good things about those guys. They are so wonderful."
Read Home Free: 11 Things to Know About the All-Vocal Group here.