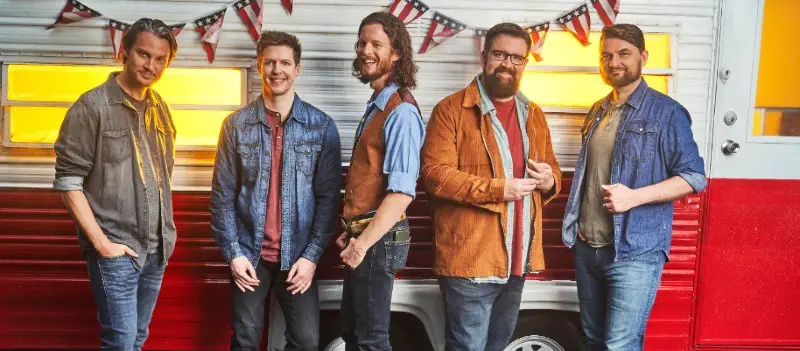 Home Free has attracted millions of fans, and sold out large venues and arenas all over the globe. The five-man group has released numerous albums, and performed with some of the biggest artists in music, of any genre. Read on to find out 11 fun — and random — facts about Home Free.
1. Home Free won a reality TV talent show.
In 2013, after Home Free had already released five records independently, the group competed in the NBC show, The Sing-Off, with a cappella groups vying for the grand prize of $100,000, and a recording contract with Sony. Home Free won the season, by performing songs like Florida Georgia Line's "Cruise," "Ring of Fire" by Johnny Cash, and more.
2. Home Free first formed in 2000.
The earliest inception of Home Free began in 2000 in Minnesota, with Chris Rupp, along with his brother, Adam Rupp, Matt Atwood, Darren Scruggs, and Dan Lemke. It was Chris who had the idea to start performing together, and Home Free was born. Their name came from a boat belonging to Atwood's grandfather.
3. Home Free once sang for Diana Ross, at her birthday party.
Diana Ross asked Home Free to sing for her 75th birthday party, after she saw a video of them singing the song, "Love Train."
"Our minds were blown that we were on her radar at all," Tim Foust recalls. "Once we got out to L.A., her assistant told us that she had spent the entire previous day sitting in front of her computer watching Home Free music videos, which is just crazy. The fact that someone who has lived music for over half a century —three-quarters of a century! — is moved by our music is such an encouragement to continue doing what we're doing."
4. Home Free discovered tenor Austin Brown on a cruise ship.
Home Free was performing on a Royal Caribbean cruise ship, where Brown was working as a singer, and they all became close. At the time, Brown said he would be interested in joining the group if there was ever an opening, which happened in 2012, when Atwood decided to leave the group to spend more time with his family.
5. Home Free has collaborated with a lot of artists over the years.
Part of Home Free's appeal is their ability to perform any style of music, with artists from any genre. Their love of all different styles of music has allowed them to perform cover songs with artists numerous times, including "American Pie" with Don McLean, "The Devil Went Down to Georgia" with Charlie Daniels, "Elvira" with the Oak Ridge Boys, and more.
6. Rob Lundquist makes a mean drink.
Rob Lundquist can make a killer cocktail — or at least, he used to be able to in his former life. After graduating with a degree in music, he worked as a bartender at Guthrie Theater in Minneapolis, Minnesota, before officially joining the group in 2008.
7. Adam Rupp can play a lot of instruments.
Adam Rupp, the only founding member of Home Free, is the group's official beatboxer, but he has a lot of other talents as well. Rupp can also play numerous instruments, including the trumpet, drums, keyboard and bass guitar. He has a music performance degree in trumpet.
8. Home Free loves making videos.
Home Free seriously loves making videos, which is why they have so many of them. The group received the Gold Play Button from YouTube, for having more than a million subscribers on their YouTube channel.
"When we signed with our management company, right after winning The Sing-Off, a big part of the plan was based around YouTube, and a portion of our success has been and will always be that, just because it stays there forever," Brown previously said.
9. Home Free also loves Christmas.
All of the members of Home Free love Christmas — a lot. Of all of albums the group has released so far, five of them have been Christmas records. Their first holiday album was Christmas Vol. 1 in 2010. followed by Christmas Vol. 2 later that year, Full of Cheer in 2014, Full of (Even More) Cheer in 2016, and their recent Warmest Winter, out in 2020. Their latter included both originals and covers.
"It was extremely hard to narrow down songs because we have already recorded so many, and there are still so many to choose from," Lundquist admitted to Everything Nash,  speaking of Warmest Winter. "We all brainstormed for weeks to see what covers we wanted to do, all the while Tim Foust and Austin Brown were doing writing sessions around Nashville, trying to come up with things for the record. I think every song that they presented we loved."
10. Austin Brown considered a career in construction.
It's hard to imagine Brown being anything but a singer, but it wasn't his only career choice. Brown comes from a long line of construction workers, and once thought he might follow in their footsteps.
"For a while, when I wasn't sure if the entertainer life was the life for me, I daydreamed about going back to South Georgia and working a peaceful life in construction," Brown admitted to Everything Nash. "That's what my father was raised in, just like my grandfather and his father before him. So, needless to say, I enjoy swinging a hammer."
11. Home Free has very loyal fans.
A lot of artists say they love their fans, but Home Free really does, and it shows. The group has numerous loyal and active fan clubs, including the Home Fries, which so far has more than 13,000 members on Facebook, and 5000 Twitter followers.