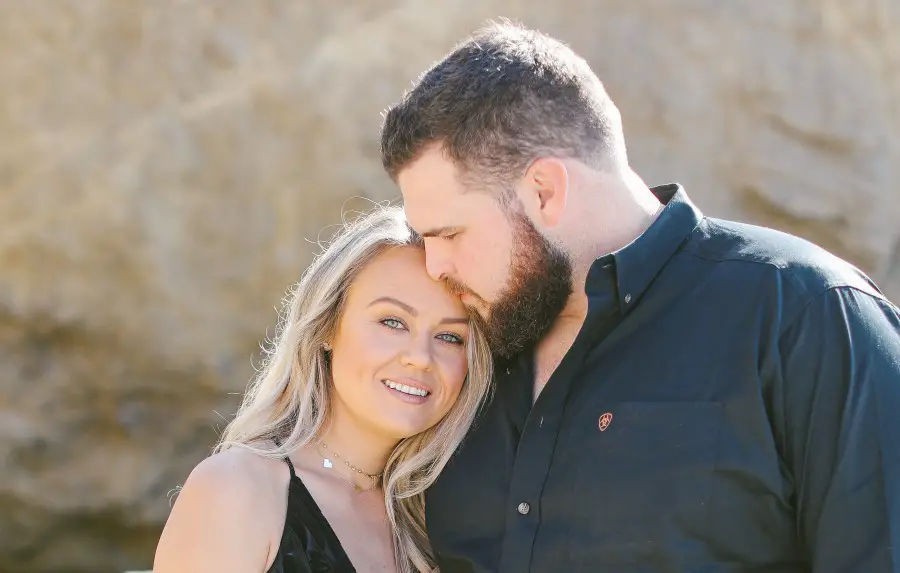 Jake Hoot is only a little more than a month away from his wedding to his fiancée, Brittney Hoyt. The couple initially met years ago, but sparks didn't fly until they reconnected on a missions trip, in another country. Still, both Hoot and Hoyt had to wait until the timing was right — which, thankfully, ultimately led to a proposal.
"We have known each other for almost eight years now," Hoot tells Everything Nash. "Both of our best friends, her best friend and my best friend, got married. She was living in California at the time … I was going to college here in Tennessee and we were sending soundbites back and forth to rehearse this song for their first dance. We met at the rehearsal dinner, rehearsed it once or twice, sang it and then went our separate ways, and didn't talk to each other for another six years."
Both Hoot and Hoyt happened to be on a missions trip together, to Nicaragua, when he realized they had a powerful connection, even though he had to be patient for just a little while longer.
"On a missions trip a couple of years ago, we reconnected and became friends," Hoot recalls. "I was interested, and tried to pursue her, but it just wasn't the right time. I was just coming out of a dark season in my life. Then she moved to Nashville because her family lived here, and we reconnected again."
Fortunately, another missions trip sealed the deal, and Hoot and Hoyt were both ready, and eager to move forward with their relationship.
"When I went back down to Nicaragua in March of last year, in 2020, it just seemed like it was the perfect time," Hoot shares. "And so, we reconnected and decided, 'Hey, this is it.' We decided to move fairly quick because we're both 32 and we're like, 'Well, let's just not waste any time. Let's just go ahead and do it.' So I'm very excited, and I'm very excited to see what the future holds."
2021 is already turning into a big year for Hoot. The Tennessee native's debut EP, Love Out of Time, will be out on January 27. The five-track project includes a duet, "I Would've Loved You" with his coach on The Voice, Kelly Clarkson.
"She called me back immediately and she said, 'I want to shout this from the rooftops. Yes, I'm in," Hoot recalled of Clarkson's reaction after she heard the song. "Like, let's get this done. And so trying to coordinate her incredibly busy schedule with mine, recording everything and then also a wedding coming up and then having to fly to LA to record, or having to send stuff out there, it just all worked perfectly."
Love Out of Time is available for pre-order at JakeHoot.com.