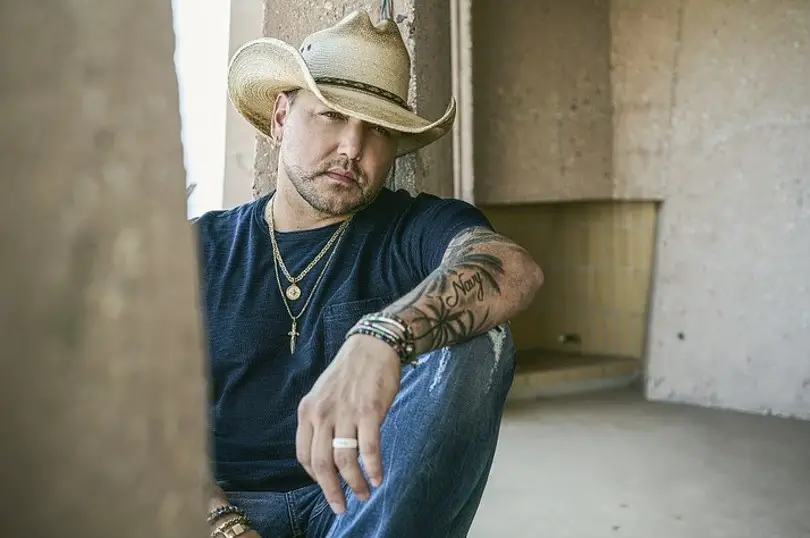 Jason Aldean has spent the last several years securing his spot as one of the reigning superstars in country music, a fact that might surprise him more than anyone else. The 45-year-old has a long list of hit singles to his credit, including "Got What I Got," "Blame It On You," and his Grammy-nominated No. 1 "If I Didn't Love You" duet with Carrie Underwood,
It's been 17 years since Aldean introduced himself to country music, with "Hicktown," but it's only been recently that he has accepted his rank in country music.
"In the past five years, I've finally been able to take the time to accept that I've accomplished far more in my career than I ever thought I would," Aldean tells The Tennessean. "Never in a trillion years did I expect this. I just wanted to make a decent living, have a nice house, keep the lights turned on and pay off my bills."
Aldean, who recently sold the majority of his music catalog for $100 million, moved to Music City with the goal of becoming a singer. While it took a few years to get a record deal, the Georgia native knew even then that he didn't want success if it came at the price of conformity.
"I was a new artist trying to make my little mark in Nashville after moving here in November of 1998," Aldean recalls. "Changing the genre's sound a little bit while doing that was kinda cool."
Aldean will release Georgia, the second part of his double Macon, Georgia album, on Friday, April 22. The record includes a cover of "Heaven," the Bryan Adams' hit. While decidedly not country, Aldean says it fits on the record because of the impact songs like that had on his own music.
"I'm an 80s kid, so I love those rock guys like Bryan and their big ballads," says the 45-year-old.
Aldean is now happily comfortable in his own lane, even if — or especially if — it's one not frequented by other artists. Still, he has learned that if he wants to stay in that lane, he needs to quiet the voices of a lot of other people about his music.
"I learned years ago not to let a lot of people hear these songs because everyone is going to have an opinion, and I lose a lot of who I am and what I like because I'm over-thinking the process … I hate it when my creative process gets cloudy," Aldean confesses.
Aldean will embark on his Rock N' Roll Cowboy Tour in July, with Gabby Barrett, John Morgan and Dee Jay Silver serving as his opening acts. Find music and tour dates at JasonAldean.com.