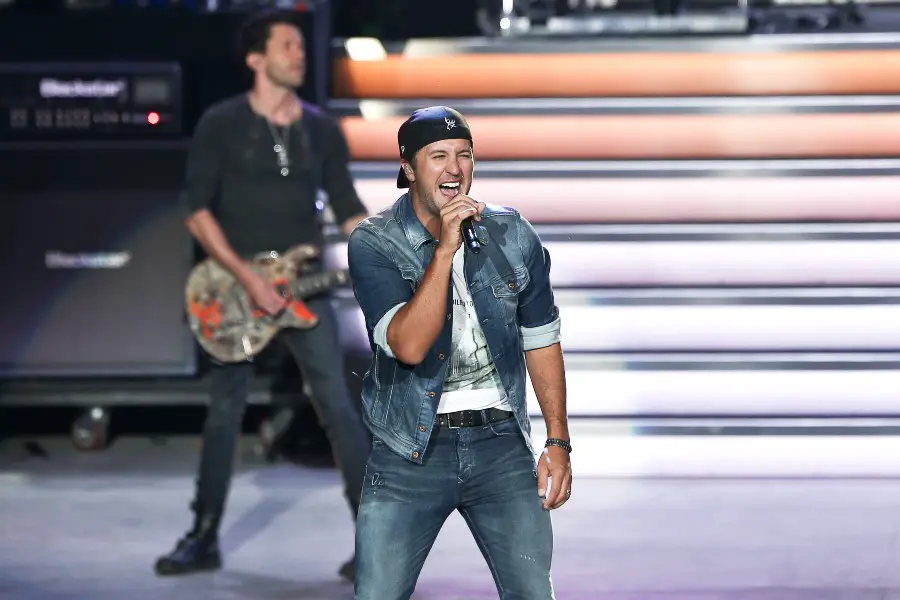 No one was more eager than Luke Bryan to hit the road, especially after being away from his fans for most of 2020. The 45-year-old has just a few more dates on his Proud to Be Right Here Tour, which kicked off in July, and is already planning when he can next hit the road — especially since he says he knows his days of near-constant touring might soon be coming to an end, thanks to his sons, Bo and Tate.
"The boys have been coming out some on the road with me this year, and I've got hunting trips planned, and fishing trips planned," Bryan tells WMZQ. "I think as my boys get a little older, and start being in varsity sports and stuff, I'm going to have to really take some tangible … back the afterburners off, and certainly I'm prepared for that.
"Right now it's like, let's get things rocking," he continues. "As long as I'm having fun doing it, and my voice feels better than its ever been. I've been having a blast out on the stage. So as long as I'm having fun, I'm going to keep doing stuff, but then things will have to start to naturally slow down."
As Luke Bryan plays the final four dates on his Proud to Be Right Here Tour, the ACM Entertainer of the Year reveals he sees a time coming when he'll slow down. #ProudToBeRightHere pic.twitter.com/3nuTvGlVc3

— 98.7 WMZQ (@WMZQ) October 14, 2021
Bryan and his wife, Caroline, also raised their nephew, Til, after the tragic loss of both Bryan's sister, Kelly, in 2007, followed by his brother-in-law, Ben, in 2014.
"The main thing is when you wake up and you really feel a lot of responsibility for your sister's children and your brother-in-law's children," Bryan tells People. "It's an amazing toll, but it makes me lace up my boots every day even harder. The toll I would never say is negative. The toll is it makes me focus even harder to make everyone's life around me even better."
Bryan just released a new single, "Up." The song, from his 2020 Born Here Live Here Die Here album, focuses on what Bryan says is one of the most important aspects of his life: his faith.
"'Up' is a song that just checks all the boxes for a country song to me," the 45-year-old says of the song, written by Jeremy Bussey, Taylor Phillips and Bobby Pinson. "It talks about what I love and what's dear to me. About my home and my faith. Add to that the fact that the songwriters used just a simple word as 'up,' to create so many images is pretty special."
Find all of Bryan's upcoming shows by visiting his website.