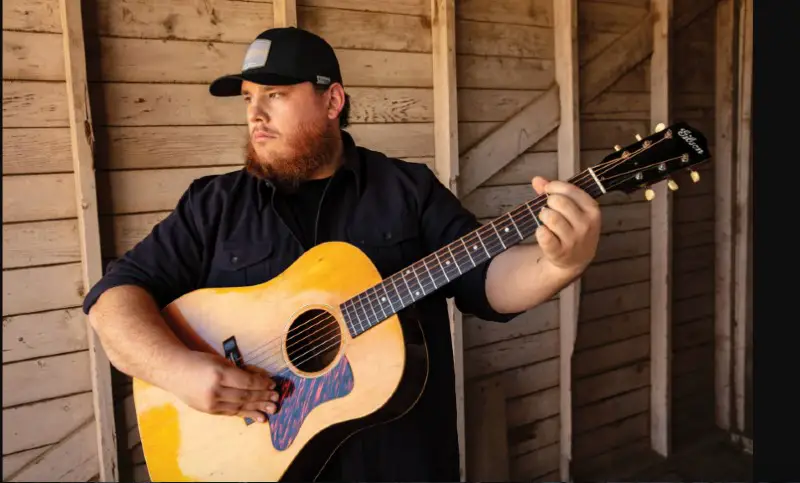 Luke Combs is officially on paternity leave. The North Carolina native performed at Nissan Stadium on the third day of CMA Fest, which he says is his last performance before he and his wife Nicole welcome their baby. But while Combs may not be performing for a bit, he plans to stay very busy — changing diapers.
"I'm just trying to get through the diaper stage," Combs tells The Tennessean. "I'm assuming that I will probably end up be doing a lot of that. I just figure I'll be changing my fair share of diapers after tonight, for sure. I'm assuming I'll end up doing a lot of that, man. I would think so. She had to grow him for nine months, so I figure I can at least do something at this point.
"It's like, you don't really do anything for nine months," he continues. "If you didn't do anything after that, [you're] kind of like a deadbeat at that point. So I just figure I'll be changing my fair share of diapers after tonight, for sure.  This is my last show as a not-dad, Confirmed. Maybe I'll be a dad by Father's Day. Who knows?"
Combs' son hasn't arrived yet, but he's already thinking about the kind of father he does, and doesn't want to be.
"I think about how different their childhood is going to be than mine," Combs tells Taste of Country Nights. "They will undoubtedly have the pressure of being my kid, which is not something that I ever dealt with and not something that I know how to deal with. I want to make sure that we have talks about those things. I'm worried about when do they find out [I'm famous]."
While Combs' career might keep him on the road a lot of the time, the 32-year-old says he plans on being very involved in his child's life, even with his busy career.
"My wife comes to almost every show," Combs says (via Music-News.com). "I enjoy her company and she has liked being out there up to this point, and obviously that will probably change a little bit with the baby and stuff. But I would love to have them out as much as they want to be out, as much as they can be out.
"I think that's important," he continues. "I don't want to be a dad that's not around or the dad that you see on TV and go 'Oh that is my dad, and that is where he is today, I guess.' Family is important to me. I'd like to be the guy throwing the football to them."
Combs'  Growin' Up album, which includes his latest No. 1 hit, "Doin' This," will be released on June 24. His next scheduled tour date is on July 7 in Canada. Find music and tour dates at LukeCombs.com.