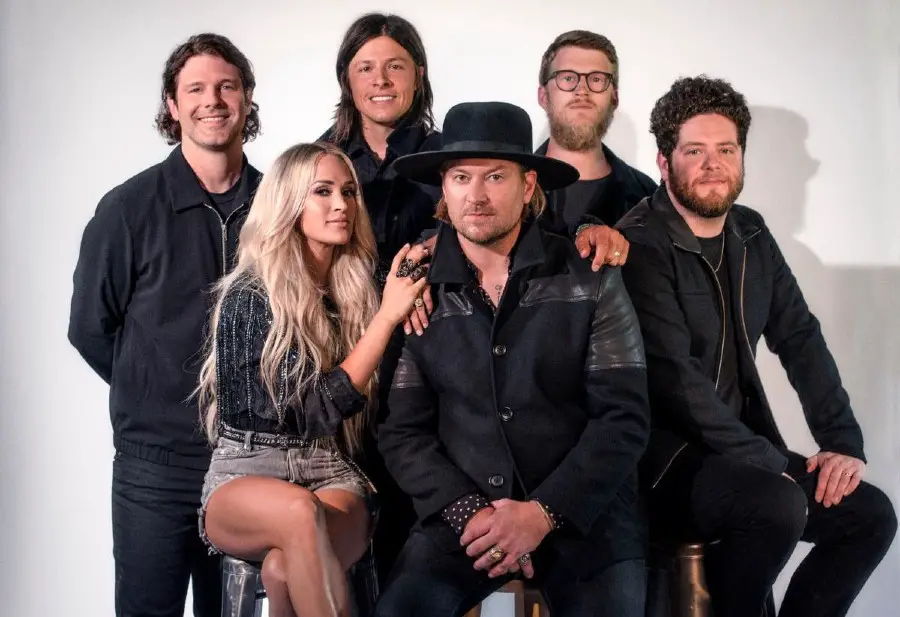 NEEDTOBREATHE's Bear Rinehart has collaborated with Carrie Underwood. not once but twice this year. The father of three joined Underwood on  "Nothing But the Blood of Jesus," from her recent My Savior album, with Underwood returning the favor on "I Wanna Remember," from NEEDTOBREATHE's just-released Into the Mystery album.
"It was kind of a hope and a prayer," Rinehart tells Everything Nash of asking Underwood to join them on "I Wanna Remember." "I had worked on her thing pretty recently, but it was after our record had been  at least recorded. It wasn't all mixed and everything. I listened back to the record, and I heard that song and I thought to myself, 'I need a female vocalist on this.' But it was really like, 'What if Carrie would do it? There is no way she would say yes to this.' So I texted her manager. That happened really naturally too, and super fast. She was like, 'I want to do it. And I'm down to do whatever. I'll shoot the video with you. I'll do whatever you want to do.' I was like, 'This is kind of an insane deal.' We had a great time with it."
Rinehart previously said that singing on "Nothing But the Blood of Jesus" was more terrifying for him than his own wedding day, a statement he still stands by.
"Harmonies are not what I do,' Rinehart maintains. "I've always been a lead singer, so I've never had to do it too much and I'm really bad at it. I've just have that in my mind of, I cannot do that. So she asked me to do that, and she asked me to do it on a song that, I knew the song, but I didn't know the arrangement. She didn't send it to me before. So I just show up and was kind of like, we'll see what happens. And it's Carrie Underwood, so  she sings all over, in a great way. Every chorus has little changes. And I told her when I got there, I was like, 'This is going to be pretty rough, just so you know. You're going to have to take your time with this. ' She was super sweet about it."
Rinehart not only sang with Underwood on My Savior, but he also joined her for her My Savior: Live From the Ryman concert special.
"I sang it with her at the Ryman. I told my wife, 'If I can do that, I probably do pretty much anything in music,'" Rinehart adds with a laugh.
Into the Mystery, which also includes collaborations with Switchfoot's Jon Foreman and Natalie Hemby, is out now. NEEDTOBREATHE will celebrate the album's release with a block party at Nashville's Bridgestone Arena on Saturday, July 31. NEEDTOBREATHE was inspired to host the block party from another event they did at Grimey's several years ago, for a vinyl records celebration.
"It just turned into pandemonium," Rinehart fondly recalls. "People were on the rafters and the stairwells. That experience was really like — we look back, and we were on the smallest stage, no production or anything, but it was just a great way to celebrate a record. And so that's kind of where this derived from. I moved here almost four years ago now, I guess, and it's just become such a community for me.
"I know I'll be here forever," he continues. "The friends we have that are writers, and the music … I was like, 'Let's just throw a big party in the most ridiculous place, and then let's see if we can create a scene down there.' I know a scene happens down there all the time, but around our stuff. We're excited about it. We're going to try to play over the pedal cars and all that stuff that are going on down there, and play as loud as we can."
Purchase Into the Mystery at NEEDTOBREATHE.com.
Want more exclusive interviews? Subscribe to our YouTube channel here.