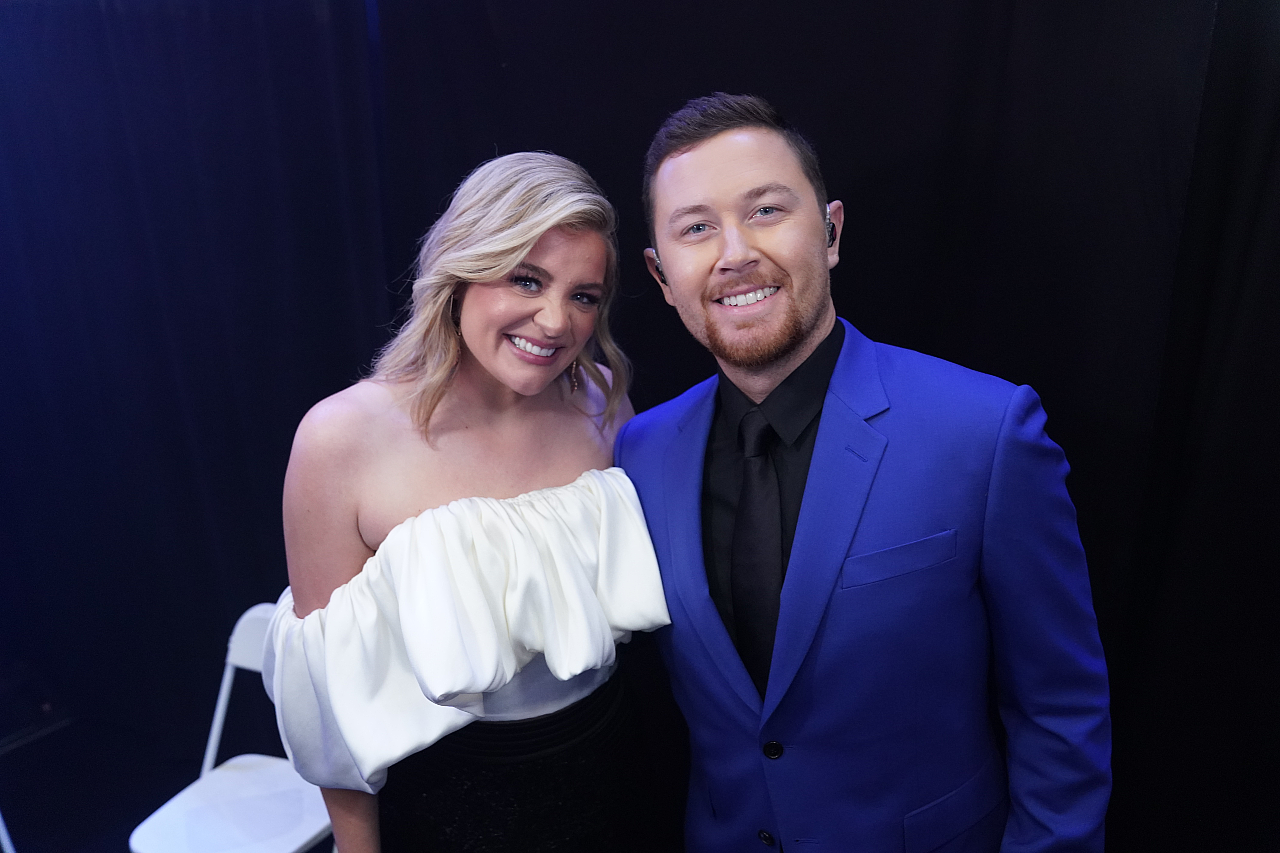 Scotty McCreery and Lauren Alaina returned to the set of American Idol on Monday, May 2, nearly 11 years after the two were crowned winner and runner-up, respectively, of the reality TV talent show. McCreery and Alaina reunited for The Great Idol Reunion, bringing back former contestants from the last 20 years, including Ruben Studdard, Jordin Sparks,  David Cook, Kris Allen, Laine Hardy, Laci Kaye Booth, Maddie Poppe, Caleb Lee Hutchinson, Willie Spence and Grace Kinstler for one unforgettable night.
McCreery and Alaina performed "When You Say Nothing At All," earning high praise from Luke Bryan after their stunning duet.
"What a way to close out the show [Lauren Alaina and Scotty McCreery]!" Bryan tweeted. "Loved seeing you both back on the #AmericanIdol stage."
McCreery still vividly recalls when he heard Alaina perform for the first time, while they were both competing on Idol.
"I'll never forget the first time I met Lauren Alaina," McCreery recalled to Audacy's Rob + Holly. "It was Hollywood Week, and I'm listening to her sing thinking, 'Oh my God, she is incredible.' Thinking she's going all the way, and obviously, she did. It's been fun over the years. We're not talking every day, but it's still that brotherly/sisterly relationship when we do see each other. We're catching up, we're hugging, we're asking how the families are."
While McCreery has had plenty of success on country radio since their time on American Idol, with four consecutive No. 1 hits, the "Damn Strait" singer insists the Grand Ole Opry member is doing just fine without any help from him.
"She doesn't need to hear any advice from me, because she's absolutely crushed it over the years," McCreery praised. "I love to turn on the radio and hear Lauren's voice. Anytime I can turn on the radio and hear Lauren's voice, I'm like, 'Wow. She's incredible.'"
Alaina recently revealed she had left her longtime record label, UMG Nashville, where she had been since her time on American Idol.
"I want to thank the staff at Mercury Records and UMG Nashville for everything they have done for me over the last 11 years," Alaina announced on social media. "They have been my label home since the day I walked off the American Idol stage as a really young, wide-eyed, eager 16-year-old kid. Now, at 27 years old I look back and see just how much I have changed and grown into the woman I am now."
"I have made the tough decision to spread my wings and close a very important chapter of my life," she continued. "There are more exciting things happening in my career right now than ever before, and I just can't wait to see where it all leads. More to share soon. With gratitude and hope, Lauren."
Photo Credit: Mitch Hadley/ABC Television Network