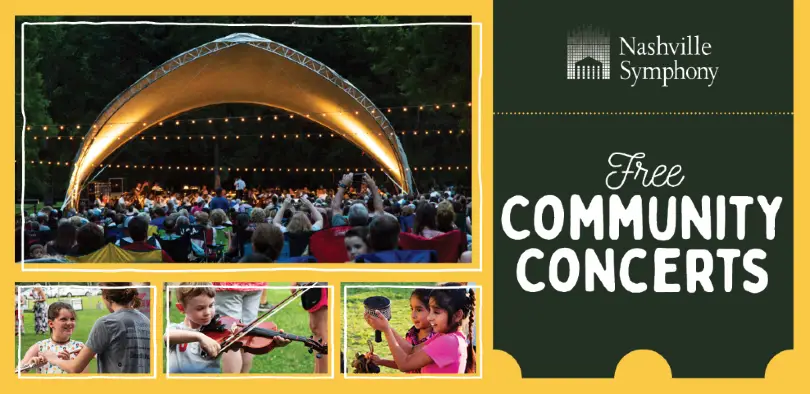 The Nashville Symphony will once again be bringing their music to local parks all across Middle Tennessee. The program, which was halted the last two years due to the pandemic, will return with their Community Concerts, bringing the music outdoors. The event, which is free to the public, will include music by John Williams, Aaron Copland, Antonin Dvoák, Samuel Coleridge-Taylor, John Philip Sousa, selections from The Sound of Music and more, all led by Assistant Conductor Nathan Aspinall.
"There's nothing more rewarding than witnessing the ways that music brings people and communities together," Aspinall says (via Fox 17). "I'm especially gratified to lead the Nashville Symphony's return to our local parks this summer because we've all really missed this special opportunity to meet audiences where they live, work and play."
Aspinall promises the event will offer something for everyone, regardless of their musical preferences.
"We'll have a wonderful program of beloved favorites that promise to entertain and inspire, whether you're a devoted classical music fan or simply seeking an evening of fun under the stars," he says.
The Nashville Symphony returned last September, after being closed for more than a year, due to the pandemic. In June of 2020, the Nashville Symphony announced all scheduled shows would be canceled through August of 2021.
"Like many other businesses and organizations, the Nashville Symphony has been profoundly affected by the COVID-19 pandemic," a statement on the Nashville Symphony's website announced at the time. "To date, we have been forced to cancel or reschedule more than 65 concerts and events, with losses thus far caused by the pandemic projected to total $8 million, or nearly 30% of our annual income. Since March, the Nashville Symphony's management has been exploring every available option to ensure the long-term sustainability of the institution. In light of our current challenges, postponing all concert activity for the next year is the best course of action to ensure that the Symphony can continue serving our community in the long run."
Although the Nashville Symphony began with smaller groups, both on stage and in the audience, to ensure social distancing. The Nashville Symphony has now returned to full capacity, and masks are no longer required.
The Community Concerts will begin on Tuesday, June 7, at the Antioch Southeast Greenspace, and continue at various spaces in and around Nashville each night, before concluding at Crockett Park in Brentwood on Sunday, June 12. More information, including a complete schedule for the Community Concerts, can be found here.