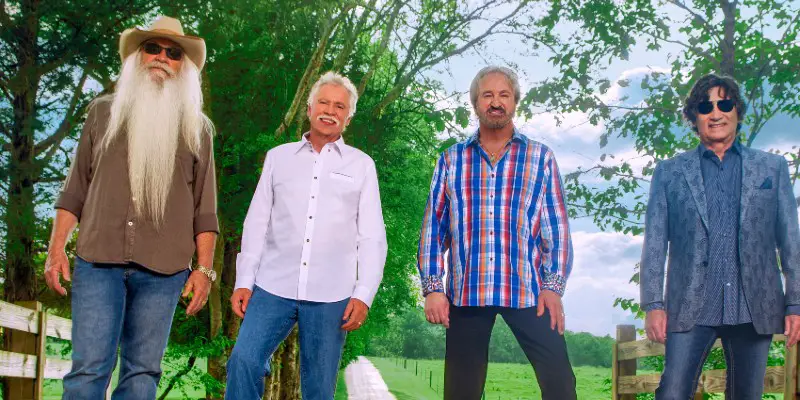 The Oak Ridge Boys' Joe Bonsall has spent 50 years with the historic group, just part of what makes his life so unique. Bonsall has just finished a new book, I See Me, detailing his extraordinary life and career, but with a unique twist. The 73-year-old, who recently announced the book on social media, was inspired to write I See Me in a dream.
"Remember those blue people in that Avatar movie? Remember the big, tall blue chick? She would say, 'I see you. I see you,'" Bonsall tells Everything Nash. "And what she meant was I really see. Not just, 'I see you,' but 'I see you.'  I had a dream one night, and I heard her in the dream. And then I heard myself saying, 'I see myself. I see myself.' That gave me the idea for the book."
Bonsall shares some personal stories in I See Myself, stories no one has heard before, until now.
Yes I have finished a new book although I keep adding to it lol … it is a quasi autobiographical quasi Oak Ridge Boys quasi modo look at how a Philly Boy became an Oak Ridge Boy … hope it gets published 🤞 pic.twitter.com/dbJMjNkAGh

— Joe Bonsall (@joebonsall) June 29, 2021
"I mentioned something that a lot of people may not know, but back in the '70s, going into the '80s, when we were touring Kenny Rogers and then 'Elvira' hit, behind closed doors, we called ourselves The Gristleairs," Bonsall reveals. "All gristle all the time, baby. The Oak Ridge Boys are Gristleairs. I wrote that in the book; nobody's ever written that before. I don't even think I've ever talked about it with anybody but you right now. And to me in my heart, when we go out there and we sing and we're putting on a really good show and the is responding, I think to myself, 'We're still the Gristleairs. There's a few years on us, but we're gristle."
Bonsall is by now well-versed in writing books, although this one was an entirely new chapter for him.
"I've got ten books published," the 73-year-old says. "I've written two on The Oak Ridge Boys. On the Road With The Oak Ridge Boys came out three years ago, which is an inside look at how we do what we do. CMT called it the best behind-the-scenes music book written in the last 20 years. And I wrote a book called American Journey, which is basically a tabletop book, but I wrote all the dialogue in it. And I wrote a book about my parents back in '93, called G.I. Joe and Lillie. It was a best-seller. It was about World War II, and how my dad had a stroke at age 39, when a piece of shrapnel stuck in his carotid artery. He was disabled the rest of his life. And my mom stuck with him."
In I See Me, Bonsall relives some of his proudest and most personal moments, going back from the early days of his life, all the way to present day.
"I see myself being inducted into the Country Music Hall of Fame," Bonsall says. "I see myself on the streets of Philadelphia getting the crap beat out of me. I see myself singing at colosseum after colosseum, and full house seats in 1982. I see myself on The Johnny Carson Show. I see myself with my mom and dad in Philly. So it's his back and forth kind of thing."
Bonsall hopes to release I See Me in 2022. The Oak Ridge Boys are back on the road. Find tour dates, and purchase their new record, Front Porch Singin', at OakRidgeBoys.com.