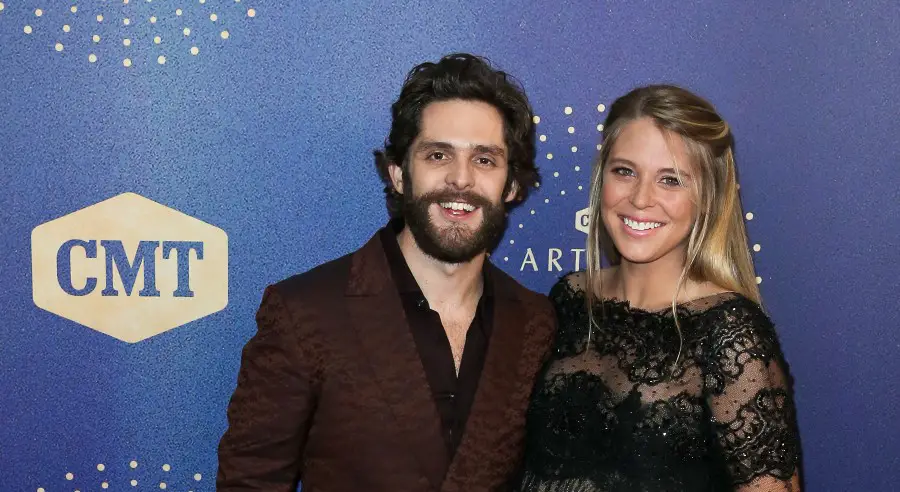 Thomas Rhett and Lauren Akins made their co-hosting debut on Monday, November 30, for the annual CMA Country Christmas event. The couple was thrilled to be part of the event, which celebrates their favorite time of the year, for both of them.
"Christmas is Lauren's favorite time of year, and mine," Thomas told the Country Music Association. "But Lauren goes all out on Christmas. So just to be here, experiencing this beautiful Christmas set, getting to see a bunch of our friends and perform our favorite songs, and getting to host this together, is going to be a blast."
Asked which of the two of them are the biggest Christmas enthusiasts, the singer says it is definitely his wife.
"It would definitely be Lauren. 100 percent," Thomas said, adding, "I just don't go at it the day after Halloween."
"He's good. He just doesn't live for this holiday. I do," Lauren remarked.
Thomas released his original song, "Christmas in the Country," last year, which he performed during the CMA Country Christmas special.
"I wrote it because we spend all of our Christmases out at our farm, and it truly is very magical," Thomas shared. "We get to see the barn lit up. We put a big Christmas tree in the barn. Everything in that song is very autobiographical to what our Christmas looks like, and we just love Christmastime and love getting to spend it in the country."
Thomas unexpectedly spent almost all of 2020 off the road. Although he missed being on tour, and in front of his fans, the 30-year-old has enjoyed the time off with his wife and three little girls.
"It definitely has been a challenging year for everybody," Thomas acknowledged. "So for us, this is the first year that I've been home, off the road, all year. So it's going to be awesome to also be at home with my family for Christmas morning, getting to watch my girls walk down the stairs. For us, we're just excited to spend time with our family, because this year I've gotten to spend more time with my wife and girls than I ever have, so Christmas I think is going to be a huge cherry on top for so much quality time that I've gotten to spend at the house."