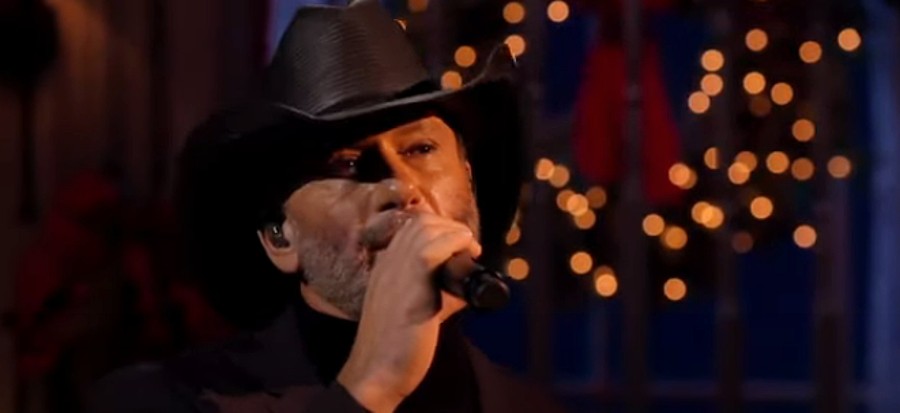 Tim McGraw was one of several artists performing for the annual CMA Country Christmas, and what a performance it was. The father of three chose the song, "It Wasn't His Child," delivering a stunning acoustic performance of the song, which looks at the Christmas story through the eyes of Joseph.
"'It Wasn't His Child' was written by Skip Ewing, who I'm a big fan of," Tim said in an interview about his performance. "I've known this song since, gosh, the late '80s I guess, and I've performed it several times at Christmas, because it's always one of my go-to Christmas songs to perform. I always loved it. I love the message and what it says, and the story behind it. It's just so well-written. Skip's a great writer."
Tim also spoke about his own family traditions at Christmas, which he hopes to continue for years to come.
"It is a little different for us around the holidays, when the girls have grown up," Tim shares. "We've got one left this year, but she's leaving before Christmas. They'll all be back around Christmastime. They always like to come home and stay at the house. We do a big tree. We always have Christmas Eve; our family tradition for years has been pasta and spaghetti and meatballs on Christmas Eve.
"That's sort of my job as dad, is to prepare the spaghetti and meatballs," he adds. "That's gonna be a tradition that I've had since I was a child, and I hope it carries on with them."
Tim just released McGraw Machine Hits: 2013 – 2019, a 14-track collection of some of his biggest hits over the last several years, as well as a new cover of the Bellamy Brothers' "Redneck Girl," featuring Midland.
"Every now and then you want to go back and hear a collection of songs exactly like you remember them," the Louisiana native said of the project. "Even to go re-record doesn't feel right because there's something magical about what happened there when it happened."
Purchase McGraw Machine Hits: 2013 – 2019 at TimMcGraw.com.