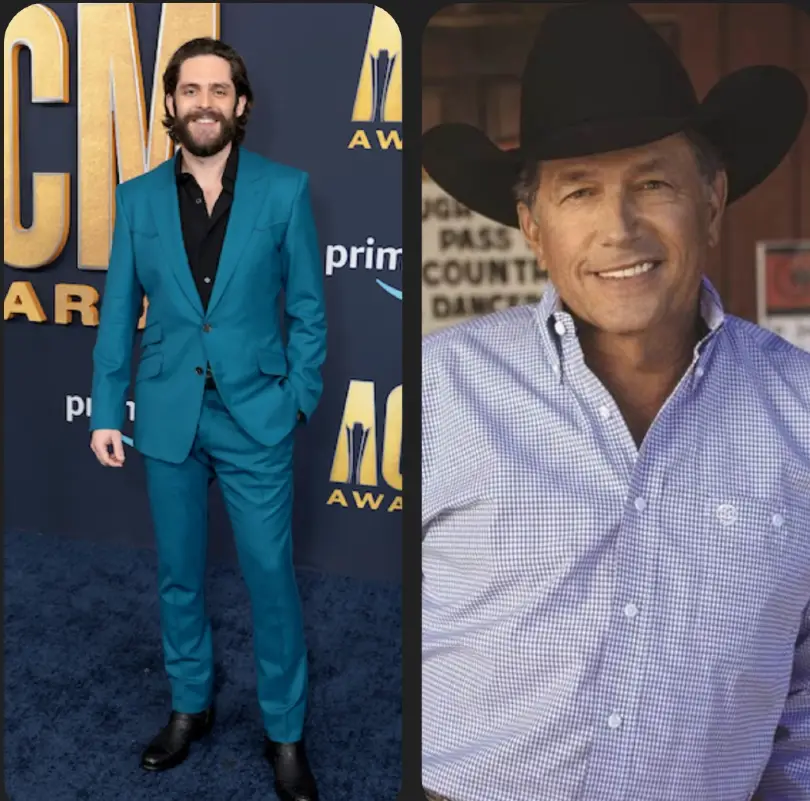 Thomas Rhett is not only one of the reigning superstars in country music, but he also grew up in the genre, thanks to his father, singer-songwriter Rhett Akins. So it might take a lot for Rhett to become starstruck, but he admits when he met George Strait, he was in awe of the country music icon.
"I would say it was like three years ago," Rhett recalls to Audacy's Kate & Company. "We were at the ACM Honors event here in Nashville. There were a few of us new artists but mostly it was icons, and they wanted to do a big group picture. And so, I was literally sitting next to Alan Jackson and George Strait was behind me, and Dolly Parton was on the other side of me. I was like, 'This is wild,' because I had never met George."
Rhett introduced himself to Strait, with the brief exchange forever embedded in his mind.
"I can't even remember what he said but it wasn't a lot," Rhett remembers. "It was very brief, and I was just like, 'Man, this is the king.' It was pretty wild to get to meet George in person."
Rhett recently met another star, this time one in pop music, when he recorded "Where We Started" with Katy Perry. Although the two recorded their parts for the song, which is the title track of Rhett's latest album, separately, they united to both film the upcoming video, as well as to make their TV debut performance of the song, during the American Idol finale.
"I don't know how this happened, but having a Katy Perry feature on this was mind-blowing to me," Rhett told Everything Nash and other outlets during a virtual media event. "Allison Jones at the label sent it to her, and she immediately was like, 'When do I put my vocal on it?' And I'm sitting there going, 'Really?' I think my mind was just kind of blown. I've always been such a fan of hers, and to have her on here I think really escalated the emotion of that track. It's a song that I think a lot of people are going to relate to, and a lot of people are really going to enjoy."
Rhett will kick off his Bring The Bar To You Tour in June. Find music and tour dates at ThomasRhett.com.