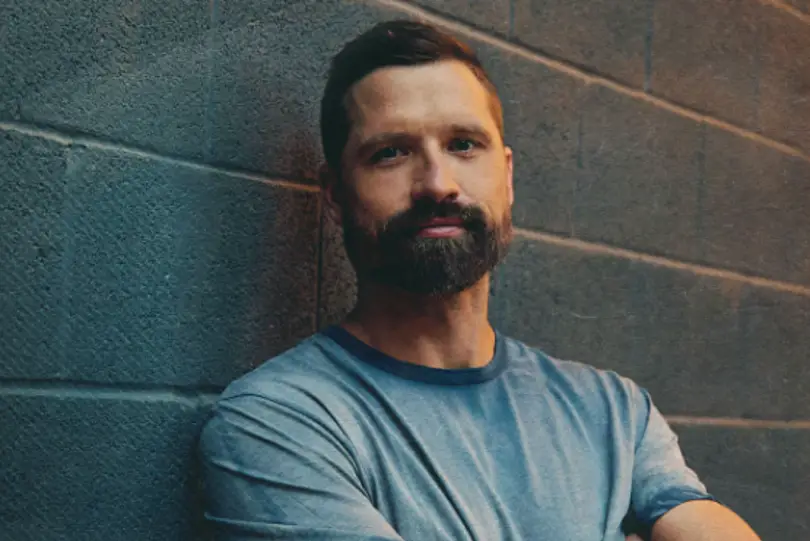 Walker Hayes' Country Stuff The Album is out! The eclectic 13-track record includes not only his viral hit, "Fancy Like," but fun tracks like "U Gurl" and "Drinking Songs," along with the thought-provoking "Briefcase," the spiritually-leaning "Craig" and more.
It's a diverse track list that for some might seem risky. For Hayes, it's just showing his true colors, sharing all sides of his personality with his fans and the world.
"Before we had even written 'Fancy Like,' I was talking to my team about how much I loved getting back to the writer me over COVID, 'cause that's all I could do," Hayes recalls to Everything Nash. "What I noticed and my team noticed is, they just started listening to my songs again, like a writer, and it was different every day. They never knew what to expect, but they enjoyed the left turns that my music took. And honestly, a lot of the stuff I wrote was faith-based, and was about my relationship with Christ. And then I would turn in 'Drinking Songs,' and they'd be like, 'Whoa, this is so different from yesterday.' And then the next day would be completely different."
It was in realizing how varied his writing could be, that made Hayes decide he wanted to share that with everyone, not just those in his inner circle.
"As I talked to my team, I said, 'You know, you guys have an advantage over the world,'" Hayes shares.  "'You get to hear all sides of me and appreciate it all.' Most of the time as an artist, you're trying to find the most mainstream part of you and give the world that. And I said, and my team, we kind of said at the same time, 'Why don't we just give the world you, which is just, you don't know what you're gonna get on a daily basis.' That's hard. It can be sometimes confusing on an album, but that's when we decided to just start picking our favorite songs, not necessarily the songs that went with each other, but just our favorite songs. And that was the beginning of Country Stuff."
Sober since 2015, it's a bit ironic that Hayes has "Drinking Songs" on Country Stuff The Album, followed by "AA." But if there is any topic Hayes will not shy away from, it's his sobriety, after years of being an alcoholic.
"A lot of my team said, 'Hey, is this gonna be a mixed message with who you are?'" Hayes concedes. "And I said, 'I'm a great drinker. I'm the best drinking songwriter ever. I mean, I'm a pro at drinking. That's why I don't drink.' We just told the truth, and it's hilarious. It's like, there's drunk me. There's 'AA' me. There's Jesus me, there's 'DeLorean' me. It's just so cyclical, the album is. And I think that's who we are as people. You don't quit drinking and not think about drinking anymore. You think about it for the rest of your life, and wish you could do it responsibly."
Hayes enlisted several of his friends for collaborations on Country Stuff The Album, including Lori McKenna, Carly Pearce, Jake Owen and MercyMe. While his massive success over the last year could likely get him any guest artist he wanted, the Alabama native says they all agreed to join him before "Fancy Like" had even been released.
"What's crazy is that every single one of those artists, they collaborated with me before 'Fancy Like' even happened," Hayes says. "They're genuine. I didn't really have much to offer them except a spot on my project. But they're all beautiful people, a very diverse group of folks. Jake and I are good buddies. Lori, I wrote 'Briefcase' with her, so it made sense. Carly, I'm just a fan of her voice, and we have mutual friends in Shane [McAnally]."
It was MercyMe's Bart Millard who inspired Hayes to re-release "Craig," a song based on a true story, of Hayes' real-life friend named Craig, who once gave his family a minivan when they were in need, and changed the trajectory of Hayes' entire life in the process.
"Bart, he heard the first version of 'Craig,' and he said, 'Man, not enough people have heard this.' I was like, 'Thank you. That's a compliment.' And then I said, 'Well, why don't we redo it? You can sing the chorus.'  It's just a completely new,"
Hayes will embark on his Fancy Like Tour on January 27 in Grand Rapids, Michigan. Find tour dates, and purchase Country Stuff The Album, at WalkerHayes.com.