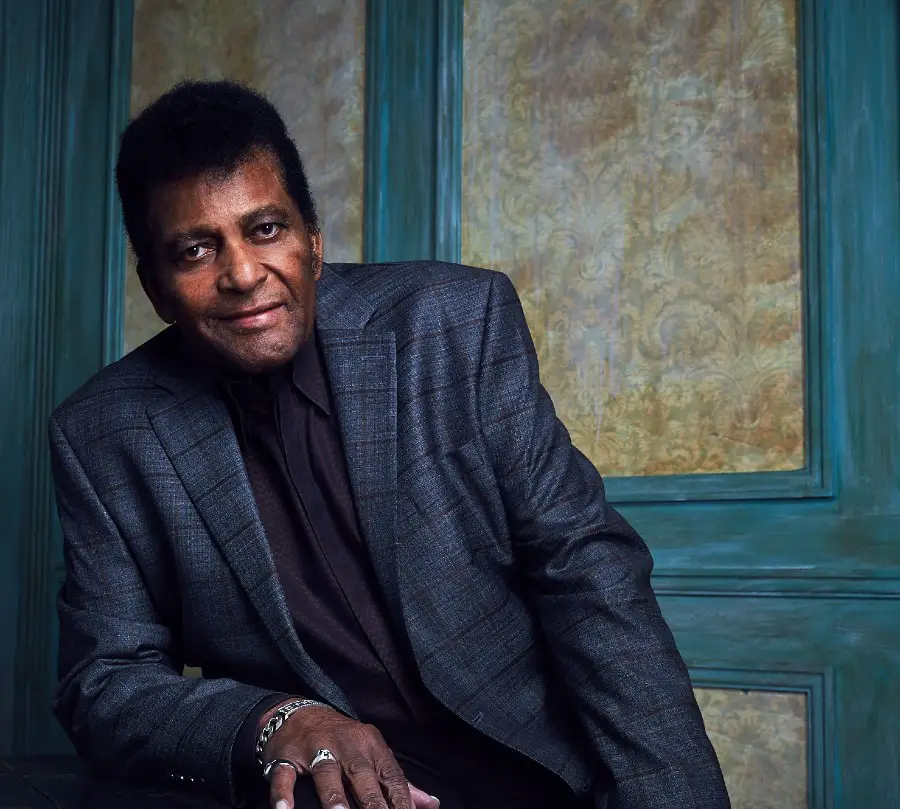 Happy birthday to Charley Pride! The country music icon, who passed away in December of 2020, would have turned 88 years old today. In honor of his birthday, we found 11 facts about one of music's pioneering legends.
1. He was the son of sharecroppers.
Pride was one of 11 children, born to sharecroppers in Sledge, Mississippi. Without much money for extras, Pride picked cotton himself to raise enough money to purchase his first guitar when he was just 14 years old.
2. He wanted to be a professional baseball player.
Pride loved music, but his first dream was to be a professional baseball player. He first played for the Memphis Red Sox, in the Negro American League, before playing for several other minor league teams as well. An arm injury derailed those plans, as did being drafted into the Army. Upon his return, he tried out for both the California Angels and the New York Mets, but was not picked by either team.
3. Chet Atkins gave him his first record deal.
Pride was working during the week and playing music on the weekends. He recorded several songs at Sun Studios in Memphis, which caught the attention of Chet Atkins, who signed him to a deal with RCA.
4. He was married for almost 64 years.
Pride married Rozene on December 28, 1956. The couple met while he was playing for the Memphis Red Sox, and got married later that year. They had two sons, Kraig and Dion, and a daughter named Angela. Dion performed with his father for several years.
5. He was the first Black singer to perform on the Grand Ole Opry.
Pride was the first Black singer, and the second Black performer, to ever perform at the Grand Ole Opry. DeFord Bailey, who was the first, played harmonica, but it was Pride who became the first Black singer to take the stage, which he did on January 7, 1967.
"I was so nervous, I don't know how I got through those two songs," Pride later recalled (via Opry.com). "It's hard to remember that far back because it's been a while, but I remember how nervous I was — that, I can tell you. It was something."
6. He became a member of the Grand Ole Opry in 1993.
26 years after his first performance, Pride became a member of the Grand Ole Opry.
"It's as if I had made it in baseball and they came up to me and took me to Cooperstown and said, 'This is where your plaque is going to be — beside Babe Ruth, Lou Gehrig, Jackie Robinson and Hank Aaron,'" he said of the honor.
In 2000, Pride was also inducted into the Country Music Hall of Fame.
7. He released more than 40 albums, and over 70 singles.
One of the most prolific artists in country music, Pride's first album, Country Charley Pride, was released in 1966, and his last one, Music In My Heart, was released in 2017. He had numerous hit singles, including "Is Anybody Goin' to San Antone," "All I Have to Offer You is Me," "She's Too Good to Be True," and "Kiss an Angel Good Morning," the latter which was a hit on the Adult Contemporary chart as well.
8. He disliked being known as a Black artist.
Pride wanted to be known as a country artist, without any mention of the color of his skin.
"They used to ask me how it feels to be the 'first colored country singer,'" Pride said (via The Undefeated). "Then it was 'first Negro country singer,' then 'first Black country singer.' Now I'm the 'first African American country singer.' That's about the only thing that's changed.
"This country is so race-conscious, so ate-up with colors and pigments. I call it 'skin hang-ups' — it's a disease," he added.
In Pride's 1994 memoir, Pride: The Charley Pride Story, he also recalled a conversation with Webb Pierce about the color of his skin.
"It's good to have you in our music," Pride recalled Pierce saying, to which he replied with, "Webb, it's my music, too."
9. He loved Mexican food.
Pride's favorite food was Mexican food, although he didn't know it until he relocated to Texas in 1969, after living and working in Montana for several years.
"I had never eaten any Mexican food until I moved here," Pride recalled to ElFenix.com. "I said. 'Well I'm not Mexican, I'm not going to eat Mexican food' But my wife took me, and now I've been addicted for the last 40 years."
10. His name was a mistake.
When Pride was born, his father wanted his name to be Charl Frank Pride. But someone mistakenly wrote down Charley instead, and so he became Charley Pride instead of Charl Pride.
11. He was part owner of the Texas Rangers.
Pride's love of baseball ran deep. In 2010, Pride became part owner of the Texas Rangers, who recently renamed one of their spring training fields in his honor.
Introducing Charley Pride Field!

You are greatly missed. pic.twitter.com/v46HyO2EQ3

— Texas Rangers (@Rangers) March 14, 2021