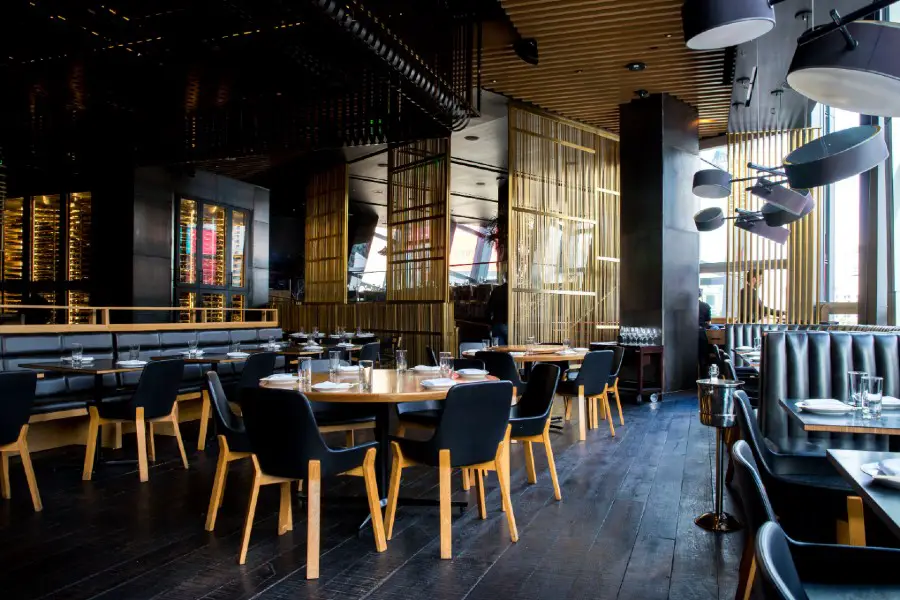 The last several months have been incredibly hard for businesses in and around Nashville, with many of them forced to close their doors due to restrictions as a result of the coronavirus pandemic. While some were able to stay afloat by offering take-out and delivery, not all of them were able to withstand the devastating economic ramifications.
According to Eater Nashville, the following 17 restaurants are now permanently closed.
1. Demos'
This one almost seemed like it couldn't be true, but unfortunately, it is. The downtown trademark, open since 1989, originally announced they were temporarily closing because of COVID-19, before later announcing the closure would be permanent. One of the few affordable places to eat in downtown Nashville (we're talking $10 cheeseburgers and seafood dishes for less than 20 bucks), this one stings. Thankfully, their locations in Murfreesboro, Lebanon and Hendersonville remain open.
2. Mewsic Kitty Cafe
Mewsic Kitty Cafe was the first cat cafe, not only in Nashville, but in all of Tennessee. The cafe, which offered coffee, drinks and snacks, also offered cuddly felines to pet, with adoptions available as well. Unfortunately, the strain of COVID-19 was too much for the unique business, which announced that, after trying to reopen during Phase 2, the business was not sustainable with the low amount of customers visiting Mewsic Kitty Cafe.
"Unfortunately, with the steady presence of COVID-19 cases, there is no end in sight to the uncertainty and considerable financial impact this has had on Mewsic Kitty," owner and founder Maegan Phan announced on Facebook at the end of August. "Despite reopening, our sales continue to stay at or below 50 percent of what they were last year. We are unsure how many more months we might be able to sustain and know we will not have the people power to manage the cafe in coming months without a dramatic change. Given all these considerations, we have made the difficult decision to permanently close Mewsic Kitty. While I'd like to imagine we'll be back some day because I truly believe in this business, mission, and model, we have no plans for it at the time."
Mewsic Kitty Cafe closed on September 30.
3. ZolliKoffee
One of the more unique coffee shops in Nashville, this coffee shop in the Gulch was already struggling with the typical slowness of the winter season by the time they began to feel the impact of COVID-19.
"Unfortunately the time has come to close up the koffee shop," the owners, Zollie Wilson, announced on Instagram. "Sept 30th will be our last day. We hope y'all can come by and get your final fixes until then. It's been a good run and an even bigger pleasure to know y'all. Thanks for helping make this place magic!"
4. Antonio's of Nashville
This popular Bellevue eatery appears to have no chance of reopening –– the Nashville Scene reported  that they already sold their equipment in an online auction by the time the news was made widely public.
5. Charcoal Cowboys BBQ
Charcoal Cowboys BBQ filled an important need for great barbecue in the south Nashville and Brentwood area, but they made the announcement on Facebook that they were shutting their doors, instead of waiting to reopen.
"We have truly appreciated the love and support provided to our family over the last 2 years and we are grateful for the lasting friendships and all the great employees that have become part of our family," they shared.
Thankfully, if you're still in desperate need of their famous beef brisket or pork ribs, their catering business will remain open.
6. The Garden Brunch Cafe
The Garden Brunch Cafe, open for breakfast and lunch only on the weekend, decided to close, after 11 years serving those near downtown.
"We want to thank everyone who has supported the Garden Brunch Cafe throughout our 11 year run," a statement read on social media. "It has been a pleasure to serve Nashville! We were honored to be a part of such a wonderful and beautiful city. We are Nashville Strong so even though we are closing permanently, we are so blessed to have been a part of this city! We will continue to pray for our great city and we will always keep this experience in our hearts. Thank you Nashville!"
7. Molinari's Italian Restaurant Cool Springs
This Williamson County staple announced on May 7 that their last day would be May 10. As soon as they announced the end of their business on social media, fans lamented the closing of the Italian eatery, known for not only their pasta, but also buttery garlic rolls and generous-sized salads.
8. Sea Salt
Sea Salt closed their doors in their downtown location, but all hope isn't lost. The restaurant hints they will open soon at a new location.
9. Shalimar
Shalimar was known as one of the best places to get authentic Indian food, which made the end of this Green Hills establishment that much more difficult for its patrons. The restaurant owners cited both the coronavirus pandemic and their location as the reason for the closure.
"Our small family restaurant has been around for 30 years in Green Hills has seen Nashville grow through many ups and downs," the owners announced. "We've recently been hit hard by the COVID-19 pandemic, and there is also a need to expand the intersection next to which we are located. Due to these pressures, we have made the decision to close our doors at the end of this month."
"We are humbly appreciative of the love Nashville has shown us and the thousands of loyal customers that are like family to us," they continued. "You have made Shalimar Restaurant a pillar of the community in Nashville and we hope to serve you once again in the future."
[Note: Shalimar is now trying to find a way to reopen in a new location. Find details here].
10. Vittles Restaurant 
Vittles has been a mainstay in the Brentwood community for 20 years, which is why the owners were incredibly saddened to permanently shut its doors.
"It's been a terrible time for us and the restaurant business that's like us," owner John Craighead told WKRN. "We did a lot of sit down business and now it's all gone. It's gone." John's son owned the Donelson location, which is thankfully open again, this time with John at the helm.
[Update: the Donelson location has also closed their doors].
11. Marche Artisan Foods
The popular East Nashville eatery announced it was closing, due to challenges from both the tornado and coronavirus.
"Marche's concept does not translate easily to a to-go platform," the restaurant announced on social media. "Without 100% occupancy we would lose revenue. The lease comes to term at the end of the year and we are uncomfortable making a further commitment in these uncertain times."
Thankfully, the sister restaurant, Margot, will remain open.
12. The Green Pheasant
The Green Pheasant was named Nashville Scene's Best New Restaurant in 2019, which makes this loss especially difficult. But their once-coveted location, on 1st Street, suddenly caused them to lose the majority of their customers, when people moved their work from downtown to home, tourism ceased, and the Ascend Amphitheater, located right across the street, canceled their shows.
13. Bar Otaku
This popular Japanese eatery in the Gulch hung on as long as they could, but the impact of COVID-19 ultimately became something they could not overcome. Several sources say the space will be occupied by a Brooklyn-based Cajun restaurant.
"As of today, July 30, Bar Otaku is permanently closed," owner Sarah Gavigan said (via Eater Nashville). We are thrilled to introduce you all to a new tenant we think Nashville is going to love. This project was a true labor of love, but we sold knowing that we can continue our work with Otaku Ramen and find new ways to continue to bring out American izakaya to our city. Thank you to everyone who supported us. We had a total blast." Bar Otaku first opened in January of 2019.
14. Las Paletas
This is a devastating loss for the city of Nashville. Las Paletas, the beloved popsicle restaurant that boasted an eclectic list of ice cream and popsicle flavors in a multitude of unique flavors, announced on Instagram that they were selling the building that their business has been housed in for the last few years.
"As Nashville grows, it's become more difficult for all small businesses to operate; increased competition and costs have forced many to close," the owners announced. "We are fortunate that we were able to purchase our property years ago and thus had an opportunity for a positive exit that many others don't. Selling this building means the end of our third chapter on 12th South yet may not be the end of our story. This was our third location on this street, in this neighborhood where we both live. We don't know what's next for our operation. Yet we're ready for a pause."
15. Piccadilly Cafeteria
This Nashville mainstay is officially gone, after 30 years in business. Piccadilly Cafeteria, located in South Nashville, announced that the restrictions because of COVID-19 made keeping their business open an impossibility.
"We always consider a store closure our very last option, but as we are navigating the new, ever-changing environment of the restaurant industry in response to the COVID-19 pandemic, it has become necessary.," the owners said in a statement to WKRN. "We are proud and privileged to have served the Nashville area and this community since 1990 —and we would like to thank all of our guests and team members who have supported us so graciously throughout the years. While we deeply regret closing this location, we hope guests will visit our locations across the South when given the opportunity."
Thankfully, Piccadilly has several more locations still open, including several in Georgia as well as other parts of Tennessee. See the other locations here.
16. Eastland Café 
Eastland Café made it through 2020 in spite of the financial constraints stemming from the coronavirus pandemic, but in early 2021, the owners announced they were permanently closing their doors.
"After 15 years of business, it is with a heavy art that we announce the closing of Eastland Café," the owners said in a letter posted in front of the East Nashville restaurant. "Thank you to all of our patrons that have supported us through the years. We appreciate all of the support, love and patronage you have given us."
17. Setsun
Setsun was known for its small but eclectic — and tasty — menu, offering a bit of something for everyone. Sadly, the difficulties stemming from the tornado and COVID-19 made the restaurant unsustainable in the long run.
"I started Setsun nearly two years ago, trying to create the type of restaurant that I wanted to go to," owner Jason Zygmont announced on social media. "Something I thought Nashville was missing. Our goal was to create a warm, inviting environment that served approachable, delicious food and natural, low intervention wine. To those goals, I believe we succeeded. Unfortunately, we ran head first into a tornado and then Covid."
18. Rotier's
Rotier's announced in February that they were closing after 75 years in business. The restaurant, which began in 1945, was known for its cheeseburgers on sourdough bread, meat and three plates, and more. According to second-generation owner, the owner of the building where they were located declined to renew their lease.
Photo Credit: Unsplash / Jason Leung