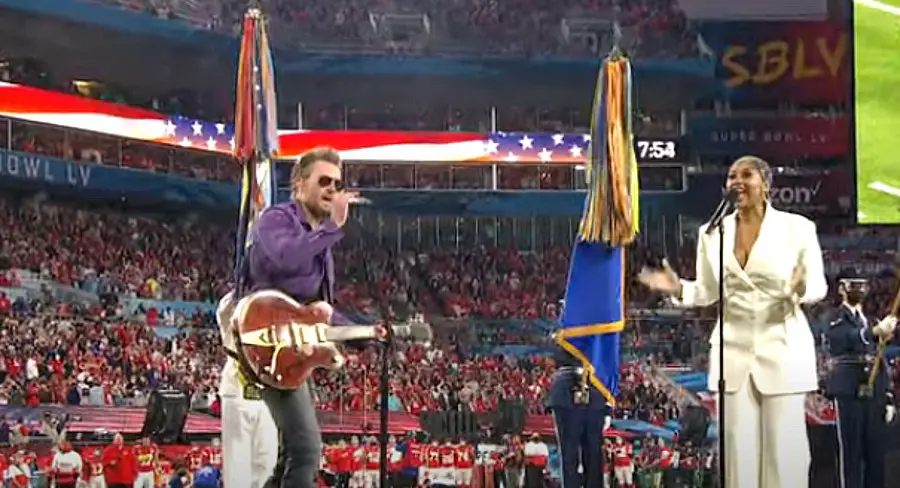 Eric Church and Jazmine Sullivan nailed their performance of the National Anthem ahead of Super Bowl LV. The two singers, who had not met prior to their historic match-up, made the patriotic tune both soulful and unique, and one that will likely be praised for years to come.
Church, who has never performed the challenging song for a major event before, says there is a very good reason why he consistently refused, until now.
"I've avoided it forever," Church told the Los Angeles Times. "It's an incredibly hard song to sing. And I'm not a vocalist — I'm a stylist. Somebody like me, you take some liberties with it, then you've gotten too far away from the melody and suddenly you're a communist. Honestly, there's just more to lose than to gain."
Church might have continued to refuse to perform the National Anthem, if not for the Capitol riots, which served as an unlikely inspiration for him to take on the song.
"I feel like in this country, we've given up the common ground," the reigning CMA Entertainer of the Year shared. "When I'm at a concert, I'm not thinking about how many people there are Republicans or Democrats. But that's how you win elections — you have to create the division, to rile up a base. And because of COVID, we've lost the things that used to unite us: concerts, sporting events, trips to Vegas with the boys.
"I can tell you from the concert standpoint, the longer we go without people being able to put their arms around the person next to them and have a moment of communion, it gets more tenuous and more dangerous," he added. "And I think the reality of that is what happened at the Capitol."
Church may not have been familiar with Sullivan prior to being invited to perform with her, but he is now forever a big fan of her and her music.
"Let me tell you something. She may be the best singer," Church gushed on Apple Music Country's Today's Country Radio with Kelleigh Bannen.I was floored. And the best thing about this, no matter what happens, because that's a nervy thing that we got to do, but what a fan. I'm a fan. I've went in and listened to everything she did. And I had heard her name, but full disclosure, I had not listened."
Church is far from the only country artist who has performed the National Anthem for the NFL's biggest night. He joins an elite list of artists, including Garth Brooks, Faith Hill, Luke Bryan, Charley Pride, The Chicks and Carrie Underwood, who sang "The Star-Spangled Banner" prior to a Super Bowl.