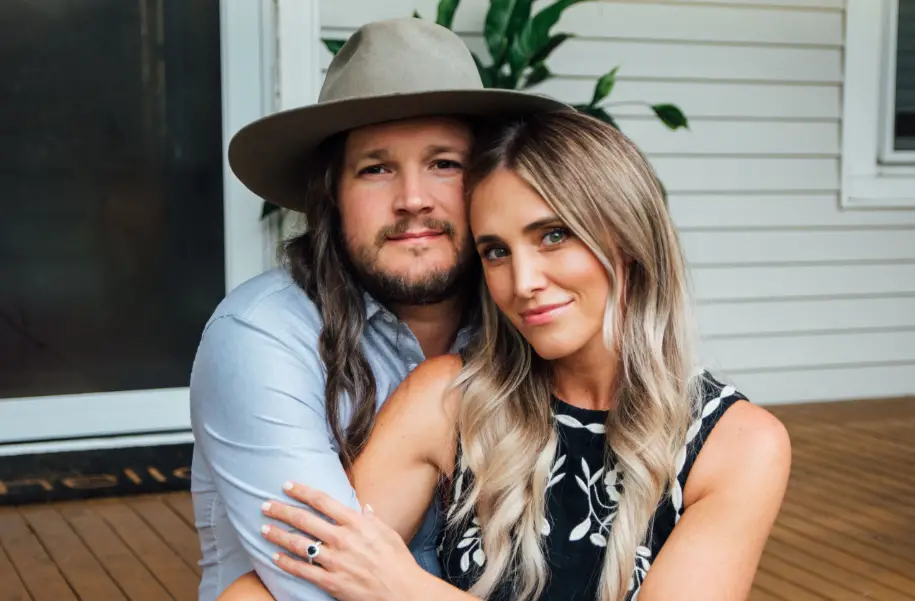 A new duet is out, this one from Adam Wakefield and his wife, Jenny Leigh. Wakefield and Leigh, also a talented singer, recenlty announced the release of the song, "Finding Time," when also announcing the birth of their daughter, Fern Templin.
The pensive song, which says in part, "I can't remember how / To stop and look around / But I'm, I'm finding time / Can't remember how to get back to my hometown / But I'm, I'm finding time … I don't mind a faster pace / But sometimes I wish this place would just slow down / I know there's some time here to be found," features award-wining Jenee Fleenor on fiddle.
Wakefield and Leigh chose to keep her pregnancy a secret until one month before she was due, also keeping her arrival a secret for a month, until announcing the release of "Finding Time."
"Pregnancy has been the most incredible journey. I'm ready for the last great adventure: fatherhood," the couple told People in a joint statement when announcing that they were going to be parents. "We are in constant awe of the human body and what a blessing it is to have the opportunity to become parents. We have always wanted kids and the timing feels right for both of us."
"We kept things under wraps for eight months and have really enjoyed keeping the start of this new chapter intimate," they continue, explaining why they announced the news when Texas Hill was performing at the Grand Ole Opry. "But having the opportunity to share our news from the Opry stage felt right. With such family-oriented roots and country music history, we couldn't think of a more special introduction for our baby. Now let's just hope he/she is into music and not sports!"
Wakefield won't have much time to enjoy acclimating to fatherhood from the comfort of his own home. Part of Texas Hill, the trio, which also includes Craig Wayne Boyd and Casey James, have plenty of dates on the calendar over the next few months. The group is currently on their Heaven Down Here Tour, supporting their new record of the same name.
"All three of us were thrust into situations where millions of people made snap judgments on our talent and ability in 90 seconds, and that's why this project has been so cathartic for us," Wakefield says of the album, which combines the talents of three singers who all rose to fame on reality TV talent shows. "There are so many things we're proud of on this record. I think the one I'm most proud of is how diverse and raw it is. At a time where new music coming out of 'Music City' can be formatted and predictable, we let the music lead, and it took us to a lot of different places.
"There are elements of blues, R&B, country, southern rock and even Latin influences on this mama-jama," he adds. "I think there's something for everyone on here."
Texas Hill's music and tour dates can be found at  TexasHillOfficial.com.