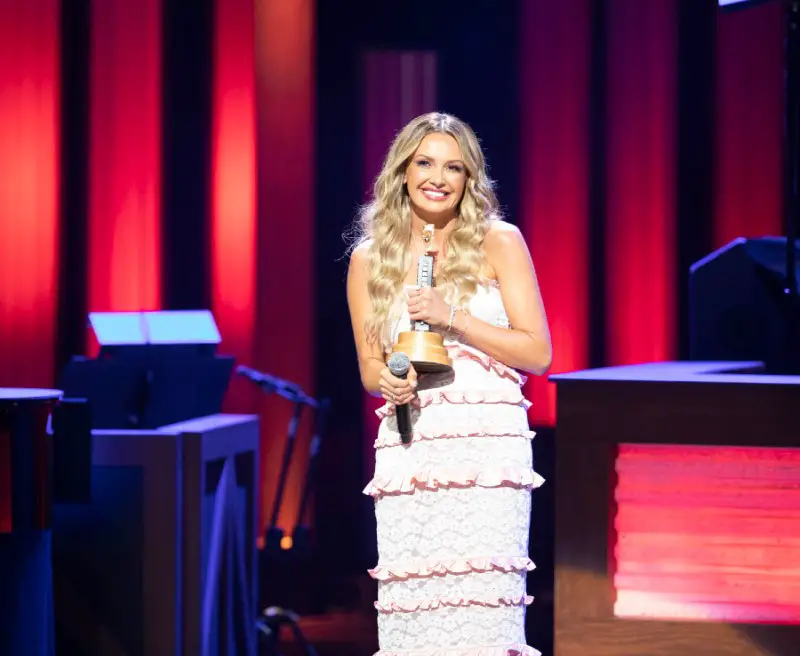 Carly Pearce still can't believe she's an official member of the Grand Ole Opry. The Kentucky native, who was inducted by Trisha Yearwood last month, joined Marty Stuart and Billy Cody in a special press event on Tuesday, August 16, to officially kick off the countdown to the Opry's upcoming 5000th Saturday night broadcast, which will take place on October 30.
Pearce's earliest dreams were of wanting just to see the Grand Ole Opry, never imagining that she would one day become part of the hallowed institution.
"My grandparents loved the Opry, and I think that's where I got my first taste of understanding what this place meant to country music," Pearce shared. "It was a way of life in our home, and just something that I always knew I would find my way, somehow, to the circle. I didn't know if I'd ever get to sing there, but I was going to see it. And when I got to see it, I was like, 'Oh I have to sing here, because to me it was a family that I so desperately wanted to be a part of."
Pearce first got to visit the Opry thanks to her friend and neighbor, Jeannie Seely, who let Pearce hang out backstage when she was performing. The "Next Girl" singer was still cleaning Airbnbs when she first performed on the sacred stage, a memory that is forever etched in her mind.
"I just remember immediately walking in here, and feeling worthy," Pearce recalled. "They made me feel a part of this place. Stepping into that circle was the most overwhelming moment that I've ever had."
Now that Pearce is a member, she takes her role, very, very seriously.
"it's now my duty as one of the members of this generation to make sure that I carry myself in a way that makes people understand what this place means," Pearce said. "Making sure that it is preserved in the way that it was always intended to be, that it still has that fire and that family atmosphere, and that it never will be unbroken."
Pearce played the Grand Ole Opry more than 80 times before she was invited to join, a wait that only made her more determined than ever to someday become an Opry member herself.
"I don't think I felt frustrated," Pearce tells Everything Nash. "I knew that they knew how badly I wanted that. And I think that for me, it just was more fuel under the fire to make sure that I continued to show them that this wasn't just something that was an added accolade, or another feather in the cap that I would forget about after a month, but that this was truly a lifelong commitment to be an ambassador, the way that I feel like Carrie Underwood has in her career. And I knew that it would come at the right time. So I just continued to kind of do what I always do, which is just put my head down and work."
Bill Anderson, Terri Clark, Vince Gill, Chris Janson, Jeannie Seely, Connie Smith, The Gatlin Brothers and Chris Young will all be part of the star-studded 5000th Saturday night broadcast of the Grand Ole Opry. More details can be found at Opry.com.
Want more exclusive artist interviews? Subscribe to our YouTube channel here.