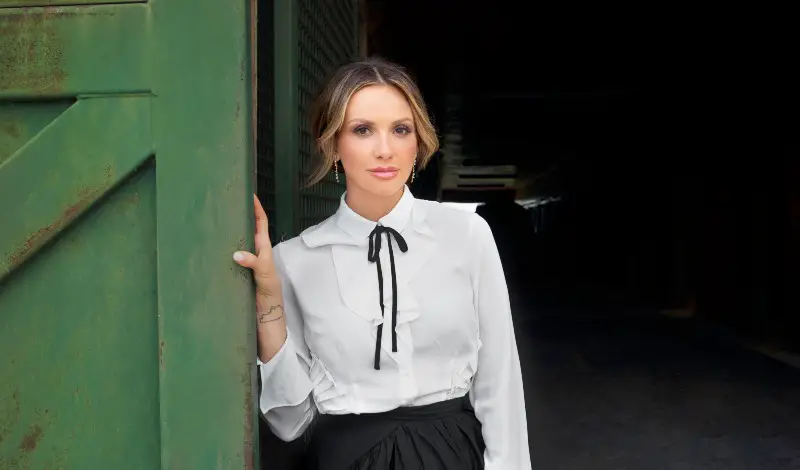 Carly Pearce had a 2021 that she never expected. The Kentucky native began the year healing from her broken heart, which came out in her telling 29 EP, followed by  29: Written in Stone, later in the year. As 2021 draws to a close, Pearce not only celebrated becoming a Grand Ole Opry member , but the reigning CMA Award for Female Vocalist of the Year as well. Pearce, who spent time on the road with Lady A, also headlined her own The 29 Tour, which was so successful she extended it into 2022.
It's more than she once dreamed of, but Pearce hints she is just getting started, and has plenty more she still wants to achieve.
"I think [I'm] just doing everything in my power to continue to solidify my place in country music," Pearce tells BMLG. "I feel like I'm just getting started. Yes, I've had a lot of things happen, but I think just continuing to have more nominations, maybe some more wins. I'd love a Grammy nomination."
It was after winning the CMA Award for Female Vocalist of the Year — something she dreamed about as a child — that she realized her hard work was paying off, in ways she could have never predicted.
"You have to know and understand how badly I wanted to win Female Vocalist of the Year," Pearce said following her big win. "As a little girl. I would watch the CMA Awards, see all the women who'd come before and dream one day I might be up there, too. But when it happens? When you're in the moment? Nothing can prepare you for that, and it's even more powerful, more exciting than anything I've ever felt in my life."
As for the success she has had so far, the 31-year-old credits her strong Christian faith with helping her achieve all that she has been able to accomplish.
"I think that those career highs are kind of what kept me going and kept me feeling like I could push through," Pearce told Fox News. "I don't think it was a coincidence that all of the career stuff started happening for me. I think God works in mysterious ways like that. I think that He's validating the kind of music that I was making and what I was writing about. It kind of was just an escape."
Pearce will also join Kenny Chesney on his Here and Now 2022 Tour. Find more information at CarlyPearce.com.