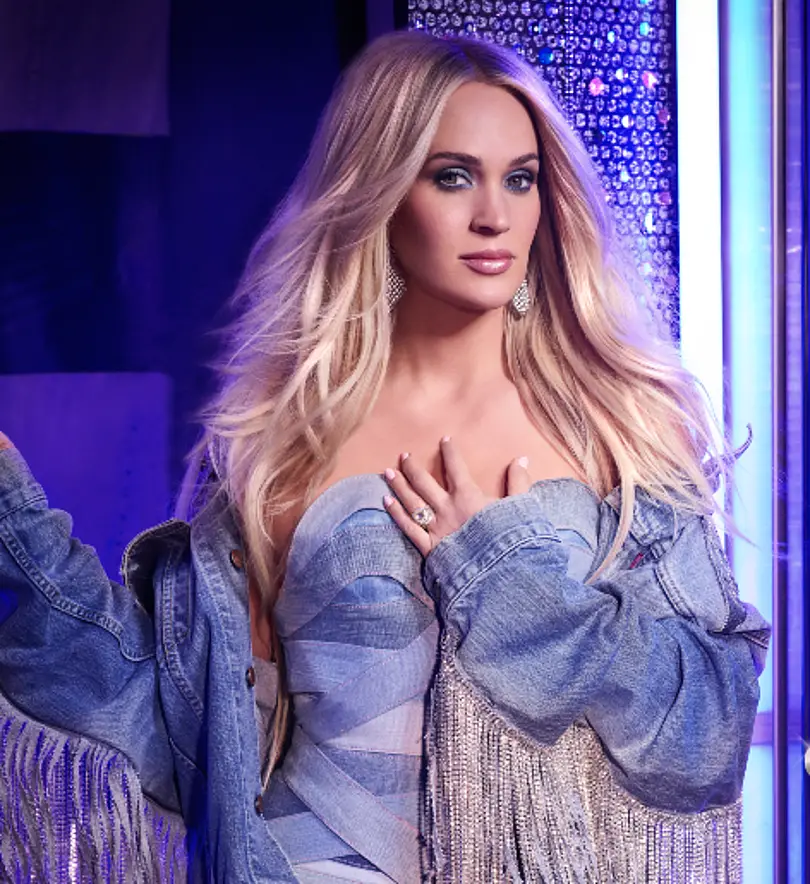 With 12 songs on Carrie Underwood's forthcoming Denim & Rhinestones album, the country music superstar could have picked any of the songs as the title track. But for Underwood, it was "Denim & Rhinestones," the first track on the record, which made the most sense to her to give fans a hint of what the entire record will sound like.
"I love the song 'Denim & Rhinestones,' first and foremost," Underwood tells her record label of the song she wrote with David Garcia, Josh Kear and Hillary Lindsey. "But I thought there was just something so cool about the title of it that is very me, that I wanted to name my album Denim & Rhinestones. When you think of Denim & Rhinestones, you think of the staples in your closet, the things that are reliable, the things that are comfortable, that you always feel good in them.
"Then you think of rhinestones and it's all the things that sparkle on top, and I feel like that kind of just sums up me," she continues. "It sums up this album. It's a little vintage. It's a little shiny, and it just makes you feel good. So, I felt like that was the perfect title for this album."
Underwood has already released "Denim & Rhinestones," along with "Crazy Angels," "She Don't Know," and "Ghost Story," which is her current single. The Grand Ole Opry member, whose last record was 2018's Cry Pretty, says Denim & Rhinestones is a feel-good project that is very authentically her.
"I feel like overall, just this next project is … It's fun. It's a lot of fun," Underwood hints to Apple Music Country's Today's Country Radio with Kelleigh Bannen. "We covered a lot of ground making it, and just went into the whole project of 'Let's just have fun and make music we love and see what happens.' I got to write a lot. I got to co-produce again with David Garcia, which is just so much fun being able to be there from the ground up and really make more musical decisions. It's a lot of fun and I feel like people are going to hear everything and just going to get some warm fuzzies.
"Hopefully, it'll make people happy to listen to," she adds. "it's a very sing into your hairbrush, in your house, in your room kind of album, which I think it's going to translate well. I think people are going to like it."
Denim & Rhinestones will be released on June 10, one day before she performs at CMA Fest. Underwood will embark on her The Denim & Rhinestones Tour on October 15, with Jimmie Allen serving as her opening act. Pre-order the record and find tour dates at CarrieUnderwoodOfficial.com.