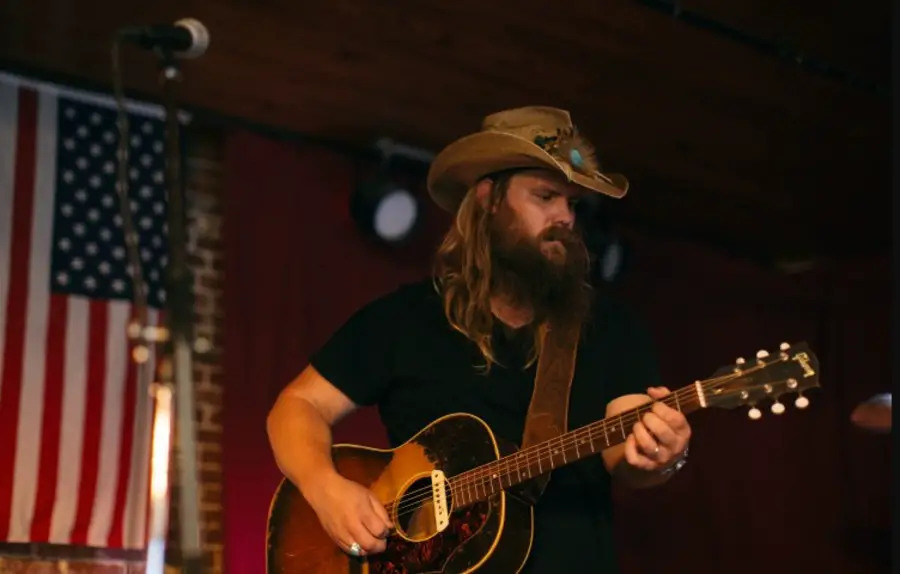 Fans who were excited to see Chris Stapleton at Nashville's Bridgestone Arena will have to wait just a little bit longer. Stapleton has announced the original shows, scheduled for October 22 and 23, have been postponed to December 10 and 11, while the singer battles laryngitis.
"I want to thank you all for your well wishes and kind words you have shared over the last few days," Stapleton said in a message posted on social media. "I had hoped to have some good news to share with you all after this quiet time, but unfortunately the progress I've made is not enough. On doctor's orders, I will need to continue my vocal rest throughout the weekend, in order to fully heal. I am sorry that so many of you have been inconvenienced and I'm truly thankful for your patience and understanding.
"Nothing is more personal to me than the experience of music," he continued. "I'm eternally grateful for sharing in that journey with all of you night after night. Thank you for your continued support and I hope to see you all very soon."
See below for rescheduled dates.
 
Nashville • 12.10.2021
Nashville • 12.11.2021
 
The show at Riverbend in Cincinnati is being rescheduled to 2022. A new date will be announced as soon as possible. pic.twitter.com/9qDV7dvwXu

— Chris Stapleton (@ChrisStapleton) October 20, 2021
It's especially disappointing for Stapleton to be forced off the road, since touring was one of the things he missed the most because of the pandemic.
"I miss touring deeply and I'm so ready to reach the light at the end of the tunnel and maybe get back out there and get to play for some folks, and I hope we get to do that very, very soon, whenever that's safe in a public health kind of way," Stapleton said earlier this year. "The silver lining and the mixed blessing during the pandemic for me is I've gotten to spend more time being a dad and being with my children than I've ever gotten to do certainly as a touring musician."
Stapleton also postponed his Sioux Falls, South Dakota show, scheduled to take place on October 16. His Cincinnati, Ohio show, scheduled for Thursday, October 21, is being rescheduled for 2022. Fans who already purchased tickets can use those tickets for the rescheduled shows. Refunds will also be available at the point of purchase. Keep track of updates at ChrisStapleton.com.
Read '11 Things to Know About Chris Stapleton' here.