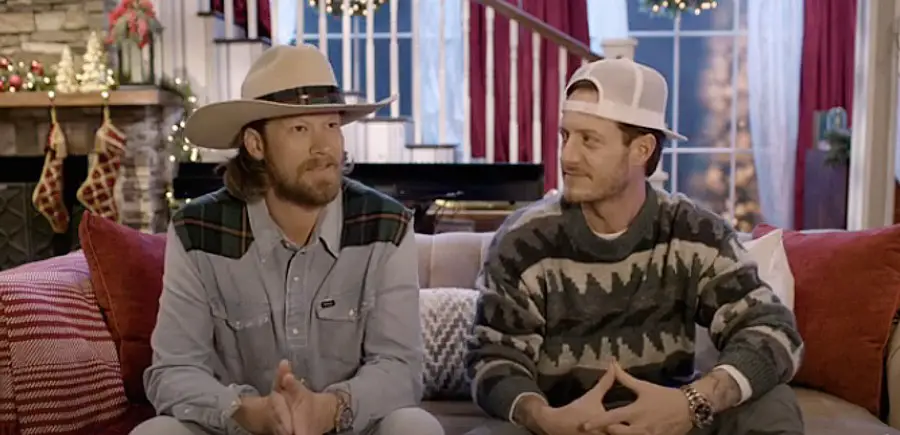 Florida Georgia Line members Brian Kelley and Tyler Hubbard have very different ideas of how they want to spend Christmas. One of them is looking forward to time out on the water, and the other hopes to see plenty of snow.
"I think for our family, we're looking forward to being in our home in Florida," Brian said, in an interview with the Country Music Association. "We've been under construction for the past couple of years, so by then we'll be in our new spot at the beach. I'm just looking forward to eating a lot of good food, being around family, and just enjoying each other's presence. Just catching up."
"We got a new baby in the family, and we also have a one-year-old," Tyler shared. "A lot of baby action going on in our house this year. But we're excited. It's always fun; there's always a lot of energy with all of the kids running around. We'll probably go somewhere where it snows a lot, hopefully the mountains, and get away. Take the family and just have a good ol' time."
Florida Georgia Line performed their new song, "Lit This Year" during CMA Country Christmas, which both FGL members wrote with Corey Crowder.
"BK, Corey and I had a good time writing this one," Tyler previously said of the festive song. "We felt like we were writing the modern-day version of 'Grandma Got Run Over by a Reindeer' meets Christmas Vacation. The only thing that would make this country Christmas song any better is if we could shoot a video and feature 'Cousin Eddie.'"
Florida Georgia Line didn't plan on being home in 2020, but found a way to cope with their unexpected change of plans, because of COVID-19..
"I think we both have found a lot of peace of mind and body and soul and everything in exercise, working out, yoga, trying to stay active," Brian explained. "Definitely think that helps out with worrying and just getting, maybe a little anxious. I used to beat myself up about worrying some, and I've gotten better about it, but I think when you're thankful for the things you have and the things that matter there is a little bit of a good worry because you don't want to lose that.
"You wanna keep working hard," he continued. "But when you get that bad worry, it's good to go for a run and stay active, call a friend, call someone you need. But worry can get the best of you. It's a daily fight but you've just gotta trust God, trust yourself and get out there and get it."