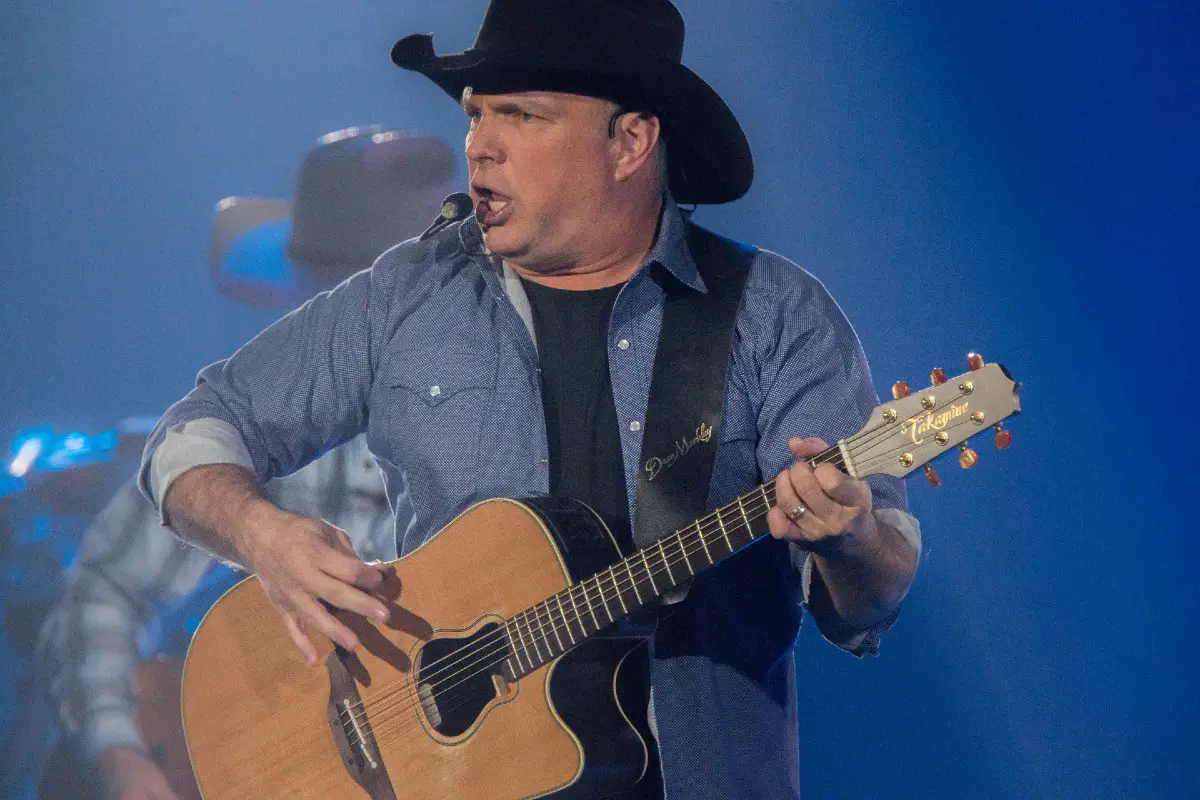 Garth Brooks has just announced the first date on his long-awaited Dive Bar Tour! The Grand Ole Opry member revealed on his Inside Studio G Facebook series that his first show would be at the Diamond Ballroom in Oklahoma City on October 11, adding that the COVID-19 vaccine would be required for entry.
"Dive bars are on," Brooks said. "Here's the deal. Stadiums, we're still watching. We're going to watch from afar. Also we had a couple of cities left in this year, but it was like, why are we canceling to announce them? And you've got to announce them so far out. So we're just looking at other dates right now, for '21, and it looks like stadium shows are not going to happen this year. There is one more city that I don't want to call it quits on yet, because fabulous city, fabulous people at the stadium. Also I don't want to hold them up, but we're checking with that."
Brooks admitted he isn't ready to say with absolute certainty that there won't be any more stadium shows in 2021, but he did say that fans would have a greater chance of seeing him perform on his Dive Bar Tour — providing they have received their COVID-19 vaccine.
"I'd love to have another show before the end of the year, stadium-wise, but if we don't, dive bars, dive bars, dive bars," Brooks said. "So this is the first announcement coming of the dive bars that are coming, the string that are coming. Why? Because you can get them vaccinated. You have your vaccination card, and you know everybody that's in there."
In August, Brooks announced that he was canceling the remaining shows on his Stadium Tour, as cases of COVID-19 continued to rise across the country.
"It was the right decision to make, even though it was not my favorite decision," Brooks said on Inside Studio G."I'm the guy that makes the decisions, so I'm going to take all of this, no problem whatsoever … 2021, we dropped the flag to go out on tour, because we thought the wave was behind us. Now the second wave comes, now you're going to see tours dropping out too."
While Brooks hopes to be able to perform at least some of the scheduled stops on his Stadium Tour, his focus is now on his Dive Bar, which is why he refuses to extend his Stadium Tour past 2022.
"This Stadium Tour ends, no matter what, in August or September of next year … COVID will not make this Stadium Tour go longer than it has been," Brooks previously said, adding, "I hate to say it was the right decision, because I hate the decision, and I hate being responsible because I'm an artist. Artists shouldn't be responsible. Artists should get to make stupid mistakes like all of us."
Tickets will only be available for any shows on his Dive Bar Tour through local radio stations. Tickets for Brooks' Oklahoma City show are available at JakeFM.com.