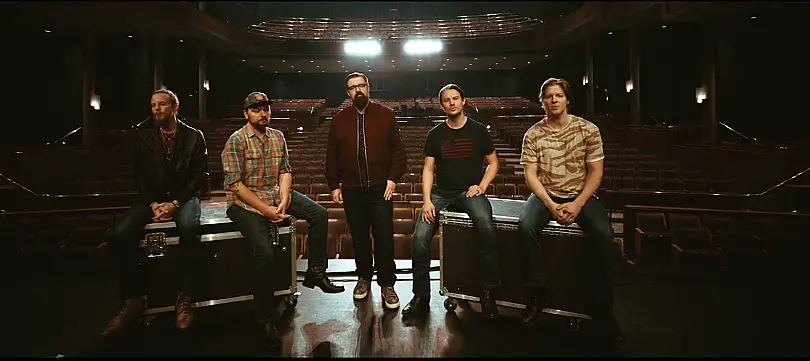 Home Free's latest cover includes a special guest — their upcoming Road Sweet Road Tour opening Maggie Baugh. The group, plus Baugh, put a magical twist on "From Here To the Moon and Back."
The song was originally recorded by Dolly Parton and Kris Kristofferson, for the Joyful Noise soundtrack in 2012. Parton later re-recorded this song, this time with Willie Nelson, for her own 2014 Blue Smoke album.
Home Free praised Baugh in a Patreon post ahead of the video's release, saying she has a "beautiful voice, and plays the heck out of a fiddle."
Home Free previously shared a video of them surprising Baugh with the invitation to join them on their Road Sweet Road Tour.
"While the cameras are rolling, I wanted to ask you something," Austin Brown says in the video. "How would you feel about maybe coming on tour with us?"
"Are you serious? Yes. Wait, really?" a stunned Baugh responds.
We heard @MaggieBaugh likes surprising people. So we thought it'd be fun to see her surprised.

Exclusive access to pre-sale tickets TODAY for our supporters on Patreon.https://t.co/1sUA0XnyXE pic.twitter.com/UldfHaYhlr

— Home Free (@HomeFreeGuys) June 21, 2022
The Road Sweet Road Tour comes after the group wrapped up their Dive Bar Saints Tour, which was postponed more than once due to the pandemic.
"It was like whiplash," Tim Foust recalled to Everything Nash, speaking of having to come off of the road as the pandemic swept across the globe. "We were literally in the middle of a European tour and we had to cut it short. We had stayed up till 2:00 AM, Europe time, to see the Presidential address. He said we were going to be banning flights from Europe. So the first thing we did was get on the phone and say, 'Delta, get us home ASAP.' It was very jarring in a 24-hour period to go from being in the middle of a tour on the other side of the world, to being on our couches in our homes, not really knowing if we could or should even leave our houses. It was one of the more jarring experiences I've ever had."
Home Free just released their latest The Sounds of Lockdown album. The 20-track album includes some of their best covers, including "On The Road Again," "Crazy," "The Gambler," "Bless The Broken Road" and more.
The Road Sweet Road Tour kicks off on September 13 in Anaheim, California. Find music and tour dates at  HomeFreeMusic.com.