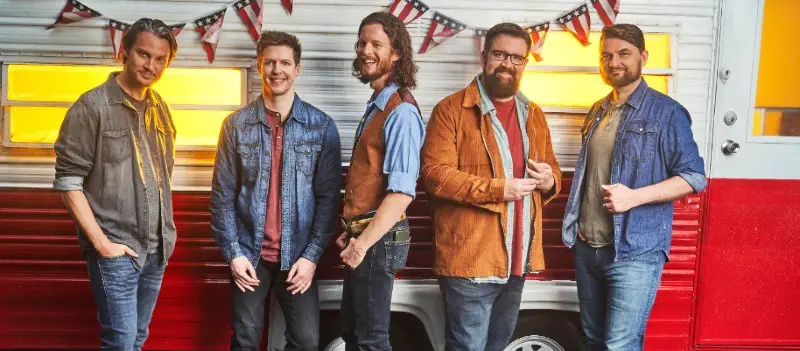 Move over, Garth Brooks. Home Free just took his No. 1 hit, "Ain't Goin' Down ('Til the Sun Comes Up)," released in 1993, to a new level. The song, written by Brooks, along with Kenty Blazy and Kim Williams, is from Brooks' In Pieces album, but he likely ever dreamed the song would be reimagined almost 30 years later with a five-man, all-vocal group.
Unlike most other Home Free songs, everyone shares in the vocals on "Ain't Goin' Down ('Til the Sun Comes Up)," with Adam Rupp showing off his stellar harmonica skills as well.
"Ain't Goin' Down ('Til the Sun Comes Up) is one of several songs Home Free has released since the start of the year. They previously shared Lonestar's "Amazed," a humorous video of "Make You Feel My Love," and most recently, "Unchained Melody." Home Free also kicked off the year with a performance video of their "Dreamer" collaboration with Texas Hill, from Home Free's December show at the Ryman Auditorium.
Home Free is currently enjoying a few weeks at home, before they will head to Canada for the rescheduled dates on their Dive Bar Saints Tour. That leg of the tour kicks off on April 14 in Halifax, Canada, and will run through May 7 in Surrey, Canada. They will return to the United States for several more shows, including a rescheduled Dive Bar Saints Tour date in Dubuque, Iowa.
Home Free was overseas on their Dive Bar Saints Tour in 2020 when they were forced to return home as cases of COVID-19 began to spread. The decision to postpone the dates on their tour was heartbreaking, but one that needed to happen.
"Planning our tours and then rescheduling them several times has been a hard pill for all of us to swallow," the group said in a statement when announcing the news. "We miss being on the road so much and are disappointed we have to wait a bit longer, but we think it's in everyone's best interest.
Find all of Home Free's music, as well as a list of their upcoming shows, by visiting their website.