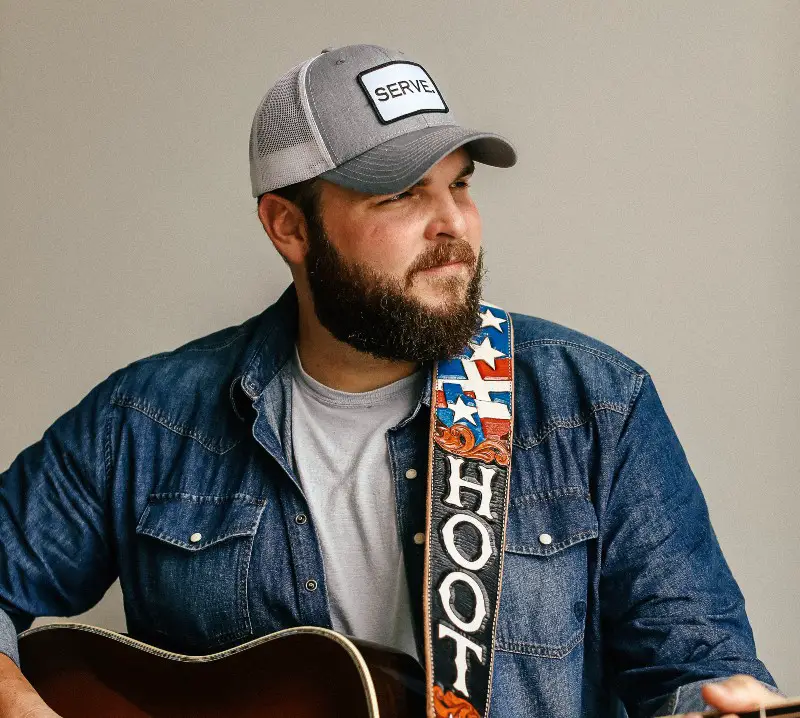 Happy birthday, Jake Hoot! The singer turns 34 years old on July 7, so we're celebrating his birthday with 11 fun facts about one of country music's most promising rising stars.
1. He grew up on the mission field.
Hoot was nine when his parents made the decision to be missionaries, ultimately settling in the Dominican Republic. Although his childhood was unconventional, without many of the modern-day luxuries most children are accustomed to, Hoot is profoundly grateful for the experience.
"The way we grew up made me who I was," Hoot told CMT. "I was blown away when we got to the United States and we had electricity 24/7. And I remember when one of my brothers stepped on grass for the first time when we were in the U.S., and he was like, 'Dad, what is this?' We just weren't used to that kind of stuff, and that influenced me. There were moments when I thought that the things my mom and dad did were the norm, and then come to find out that there are not a whole lot of people like that."
2. He still speaks Spanish.
Thanks to spending much of his childhood in the Dominican Republic, he learned to speak Spanish, a skill he still has, at least somewhat, today.
"I'm not near as rapid and as sharp as I used to be," Hoot told Everything Nash. "I was somewhere and somebody was speaking Spanish to me. It took me a little bit to kind of get back into it. I'm not near as sharp, but probably give me a couple of days to work on it and I could do it."
3. He comes from a large family.
Hoot is one of nine — yes, nine — children. The second oldest, Hoot was worried that his now-wife, Brittney, would be intimidated to meet them all at once. Fortunately, she too comes from a large family, and was completely at ease meeting them at the same time.
"When we started dating, I remember Jake asking me if I would feel more comfortable meeting his family in small groups, or all at once," Brittney recalled to Music Mayhem. "I laughed, because I understood that for most people meeting such a large family would be a bit overwhelming, but for me, all the talking over each other, everyone being involved in every conversation made me feel right at home. Jake and I loved being a part of large families so much and want to have a lot of kids of our own someday."
4. He's funny. Like, really, really funny.
Hoot has firmly launched his career in country music, but if he ever wants a side gig, he could moonlight as a comedian. While he uses TikTok to promote some of his music, he also shares plenty of comedic clips as well, including a parody of Walker Hayes' "Fancy Like," dubbed "Allergies Song."
5. He auditioned for The Voice with a Luke Combs song.
Hoot auditioned for Season 17 of The Voice in 2019, singing Luke Combs' "When It Rains It Pours." Only Kelly Clarkson turned her chair around for him, which was shocking to everyone, including Clarkson.
"I keep making fun of the other coaches, because I'm like, 'Why didn't you turn? He was a one-chair turn," Clarkson said in a press conference, immediately after Hoot was crowned the winner. "Other than the one season where Chris Blue was a one-chair turn, but [Alicia Keys] was the only one that could turn for him. He's literally the only person that's ever won The Voice that everybody could have turned for, and it was a one-chair turn. It's amazing, and it's another extension of how cool this show is."
6. He went back to his day job after winning The Voice.
Hoot had a lot of jobs after college, including as an electrician and working in heating and air, before getting a job at a radio station. Although he knew he wanted to do music full-time, he went back to his day job at first after winning The Voice, until he knew he could make enough money as a singer.
"On top of everything I'm a dad first, so until I can see that consistent way of living coming from the music and consistent money or whatever coming in to better support my family then I'll be able to step away and be able to focus more," Hoot told PopCulture.com, shortly after winning The Voice. "But, right now, we're in the preliminary stages. We're trying to get music written, recorded everything. Hopefully, sometime in the near future, I'll be able to step away."
7. Hoot knew Brittney for years before sparks flew.
Hoot and Brittney tied the knot in 2021, but they knew each other for several years before that. The two first met when they were singing together at a wedding, long before either of them had any idea they would one day be husband and wife.
"I was going to college here in Tennessee and we were sending soundbites back and forth to rehearse this song for their first dance," Hoot told Everything Nash. "We met at the rehearsal dinner, rehearsed it once or twice, sang it and then went our separate ways, and didn't talk to each other for another six years."
The two later went on a mission trip to Nicaragua together, where Hoot says he felt a connection, but the timing wasn't right. Fast forward a couple of years, and they were on another mission trip together, when the timing was finally right.
"We reconnected and decided, 'Hey, this is it,'" Hoot later said. "We decided to move fairly quick,because we're both 32 and we're like, 'Well, let's just not waste any time. Let's just go ahead and do it.' So I'm very excited, and I'm very excited to see what the future holds."
8. He doesn't eat spicy food.
Hoot will eat almost anything, but he admits he can't handle spicy food, at least not too spicy.
"I can't eat extreme spicy," he tells Everything Nash. "I like to taste my food. People love their spice and I love the flavor of it, but when I can't taste it and then to be brutally honest, when it hurts coming out later .. just leave the real spicy stuff off of it."
9. His mother once feared he had permanently damaged his voice.
His mother, Stacy, says her son was drawn to music at an early age, and began singing while still a toddler. But it was one potentially-dangerous event that made her pray for her son's voice, and her prayers worked.
"Ever since he could walk, he always hummed and sang and loved music," she told the Wilson Post. "He ate up any kind of music. He could hear a song once or twice and had it memorized. When he was little, I had been cleaning the kitchen and he had taken some Clorox water and [he]  drank it. I became unglued and called emergency. I was thinking, 'Please, God, don't let anything happen to his voice so he can glorify you in song.'"
10. He dreams of being a member of the Grand Ole Opry.
Most country artists say they dream of becoming a member of the Grand Ole Opry, but Hoot really, really, really wants to someday be part of the Opry family. Although he has performed there, multiple times, Hoot says his ultimate dream is someday to become a member.
"I was talking to someone and they said, 'The Opry's always a bucket list item,'" Hoot told Country Now. "But it's the whole bucket list for me."
11. He used to clean toilets to make money.
Hoot went to Tennessee Tech University, graduating in 2013 with a degree in interdisciplinary studies. To pay for college, Hoot worked as a janitor, a job he hopes he never has to do again.
"I was a janitor when I was going to college," Hoot recounted. "I played football, and worked overnights as a janitor at a local middle school, and was a full-time student. I was cleaning middle school toilets for about two years while I was in college."