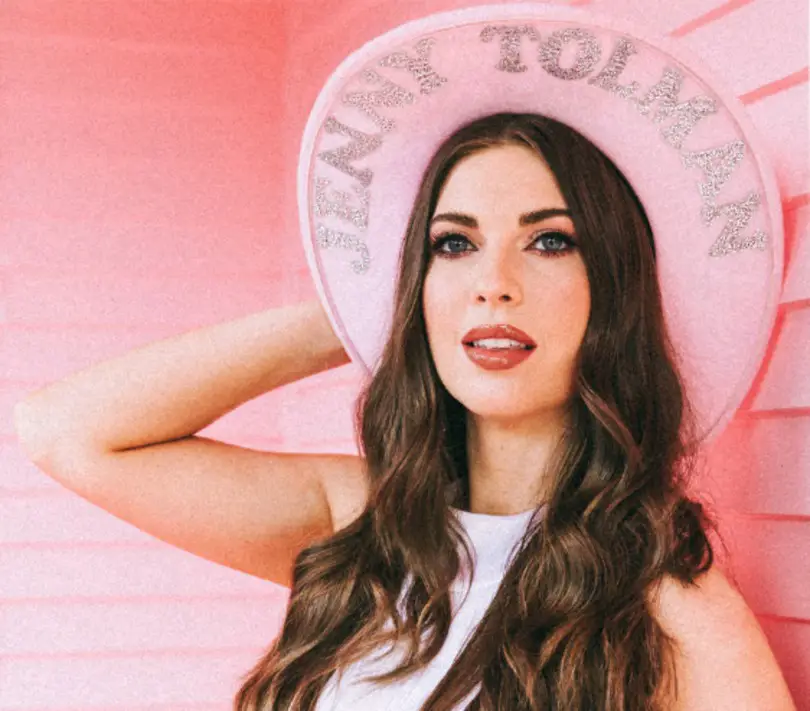 Fall is shaping up to be a busy season for Jenny Tolman! The singer-songwriter just released her new single, "I Know Some Cowboys," which was written by Tolman, her fiancé Dave Brainard, and Bill Whyte. The song is from Tolman's upcoming Married In A Honky-Tonk album, scheduled to be released in March — the same month she plans to tie the knot with Brainard in Jackson Hole, Wyoming.
"'I Know Some Cowboys' is a song that was born out of my very first tour throughout Texas," Tolman says of the fun, traditional-sounding new song.. "I was on the road and we went everywhere from New Braunfels, to Dallas, to San Antonio, The Woodlands, and more. Everywhere I went there would be cowboys opening doors for me, carrying my gear, tipping their hats… and on and on. They would try to teach me how to Texas Two-Step, which I was horrible at, but it was so much fun!"
The trip inspired Tolman to have a light-hearted conversation with her future husband, which ultimately inspired the tune.
"When I came home I said to my sweetheart/producer, Dave Brainard, 'Honey, you better step it up! Cause I know some cowboys!'  Tolman recalls. "We love to laugh and poke fun at each other, so we ended up writing this song with our dear friend, Billy Whyte. It's always a crowd favorite on the road and a personal favorite of mine because I like to show that girls can play honky-tonk songs, too."
Tolman loves writing and performing, but she also loves cooking. The Tennessee native, who previously gave us an exclusive look at her Poppy Seed Pasta Salad, is now sharing her delicious — and healthier — Apple Cider Donuts, which are gluten-free, dairy-free, egg-free and soy-free! It was Tolman's own health challenges that forced her to find ways to recreate some of her favorite foods, uncovering a passion and a talent in the process.
"I had to go gluten-free over 10 years ago, so before it was cool," Tolman previously told Everything Nash. "During that time, there weren't a lot of good replacements on the market, so I was basically forced to learn how to make certain things that I couldn't have/find anywhere. Throughout that process, I really fell in love with cooking and baking, and saw it as another creative outlet for me. Making a cooking show, has turned it into even more fun, as I get to entertain on top of it all, too!"
Watch Tolman's exclusive Apple Cider Donuts cooking demo below, and find all of her music and more at JennyTolman.com.
Be the first to see all of Everything Nash's exclusive videos — subscribe to our YouTube channel HERE.